Juneteenth celebrates the day that the Emancipation Proclamation, President Abraham Lincoln's executive order freeing all enslaved people of the United States, reached Galveston, Texas, over two years after it was made. In the 20th century, Juneteenth became associated with red drinks, red food, and red desserts as a symbol of endurance and strength. Juneteenth is recognized as a special observance in 47 states. An effort to have Juneteenth recognized as a paid holiday is underway.
The inspiration and the name of this cocktail come from a long history of African Americans not receiving their due for major contributions to American society and history. The whiskey used in this drink is from Uncle Nearest, whose real name was Nathan Green. He originated the Lincoln County Process, which is essential to Tennessee whiskey distillation. He taught Jack Daniels the craft of distillation, putting in motion an American spirits tradition. His is just one of countless unsung inventions and creations by people of color.
THIS COCKTAIL HELPS ME CONTINUALLY CELEBRATE THE PATHS WE FORGE, AS WELL AS THE PATHS FORGED FOR US BY THOSE WHO CAME BEFORE AND WHO MIGHT  GO UNCELEBRATED THIS JUNETEENTH.
"Unsung Heroes" is a bittersweet cocktail that encourages us to uncover our history. It's reminiscent of a cocktail in the Negroni family. The cocktail is special to me because it is part of my personal history — part of what led to the founding of my company, Mindful Hospitality Group.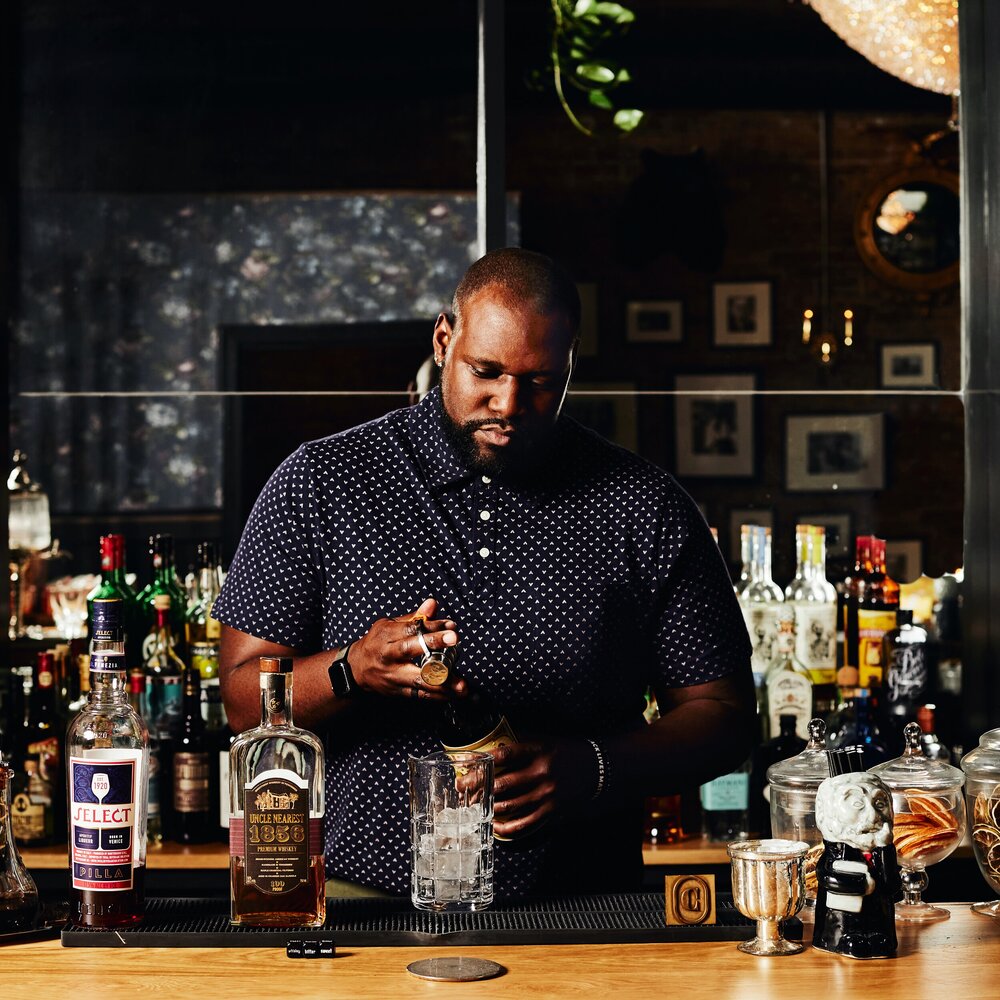 Unsung Heros Cocktail Recipe
INGREDIENTS
1 oz Uncle Nearest Whiskey
1 oz Select Aperitif
1 oz Alessio Vermouth Chinato
Orange Peel
INSTRUCTIONS
Fill a low glass with ice. Add spirits and stir with a bar spoon until chilled. Twist an orange peel over the drink. Run it around the rim of the glass, and add to the drink.
Sip slowly and contemplate.
For more about Cecil Usher, find him on Instagram: @mindfulhospitalitygroup, @mindful_bartender_
Subscribe to TABLE Magazine's print edition.