In interviews with five photographers from the United States and Canada, Mark Oppenheimer explores an essential element of 21st-century visual culture: the food photo. Whether taken by a professional with an expensive lens and a support team, or by a passionate amateur wielding a smartphone, images of food abound in our world. Settle in for a good read about what motivates the pros, and what they think makes their work not just good, but deliciously transformative.
Scott Goldsmith
Scott Goldsmith is a seasoned photojournalist with an expertise in food photography. Whether photographing a landscape, a portrait, or a plate of food, Scott approaches his subjects with a heartfelt and compassionate openness, evoking a sense of vulnerability.
What's the best part about shooting food?
I like to work with chefs because their hearts [are] in it. They've figured out the dish, how it's put together, and they have a story to tell.
What are the elements of a good food shot?
Intrigue, curiosity, and desire. If somebody looks at a picture and they don't want to eat the food, then I failed.
Looking at your work I see you like the mayhem. It's as if you have a street sense in a studio setting. You make it seem as though you suddenly caught the moment.
Good food styling is that you don't place everything and then move it. You just let it happen. Then it's my job to see where I should stand. It's my job to find out where I need to go. I'm watching everything that's going on, which is part of my early training. Everything in life is chaotic.
How does your interest and training in other disciplines influence your photography?
Similar to [Cartier-]Bresson, I like to sketch. I use the camera as a sketch book. I sketch with my camera 'til I get there. It's a messy process. I try to present the chaos in somewhat of an organized way that makes it more interesting than if I hadn't.
How do you prepare a shot when you're going on location?
Unlike most food photographers, I can't script it. I like it best when nothing is preconceived. I just have to see it and feel it; to know whether it's working or not. My best work happens when I'm inspired by unique locations.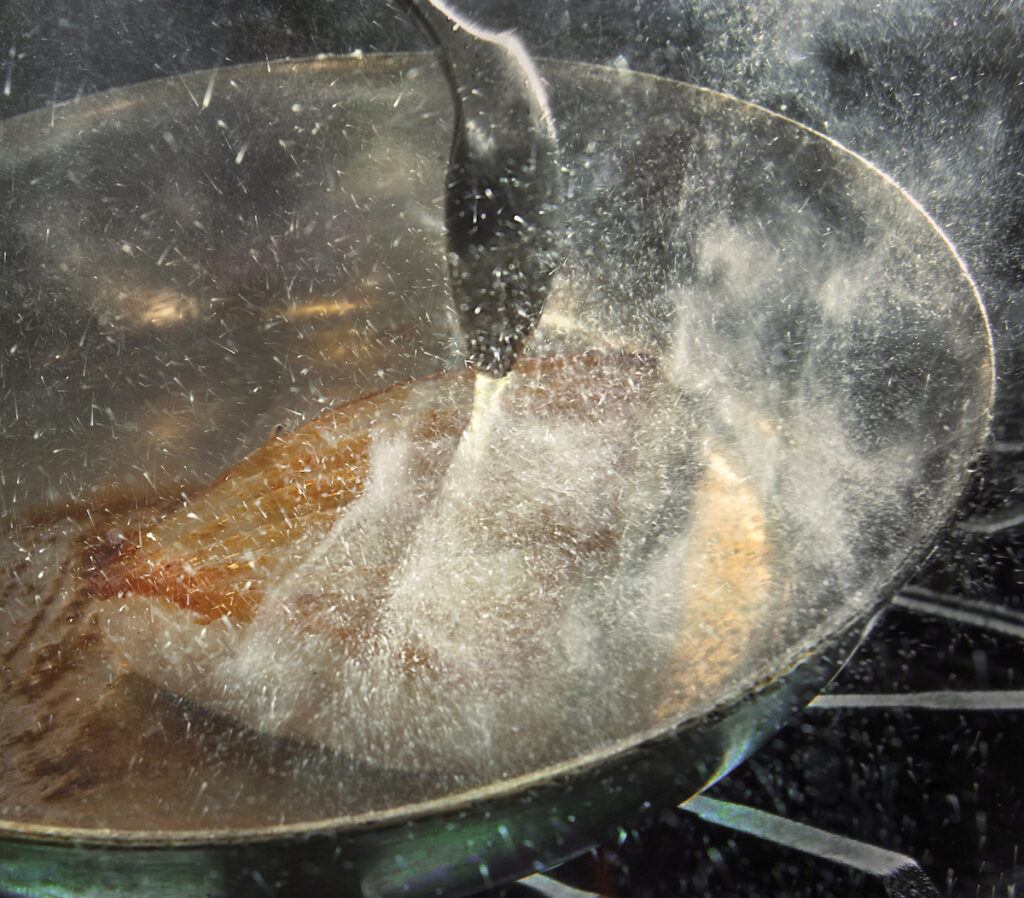 Your work has a natural approach to it. What's the story you're trying to tell?
Starting out as a photojournalist, I feel I know what's real. I like the idea of naturalism. I want the food to look so natural and real that the photographer just happened by. It's a subconscious feeling.
What's it like working for magazines?
I've learned not to listen to editors because if I do, they won't get my best work. I will always work intuitively and from my heart. I make them think I'm listening to what they're saying and then I just do what I want to do. Usually, it works out a lot better.
Story by Mark Oppenheimer / Photography by Scott Goldsmith

Subscribe to TABLE Magazine's print edition.