While folding and filling traditional Chinese Siu Mai, Chef Roger Li settles into a methodical, rhythmic process. With dough in one hand and a knife in the other, he scoops filling into a rolled-out dough wrapper, adding more, and then maybe a little bit more, until he's satisfied.
Then, he takes the half-full dumpling and begins to shape it, twisting and turning while folding the excess dough into the center with his knife. As it begins to take its final form — pleated and open-faced, like an old-fashioned paper cup — he adds more filling, until the top is flat with the edge of the wrapper.
"I grew up eating Cantonese with my grandma and my mom," Li says. Instead of a Sunday sauce, his family, who hails from Hong Kong, had a big feast of dumplings. "That's basically how I learned," he says, now calling techniques like the folding of Siu Mai "second nature."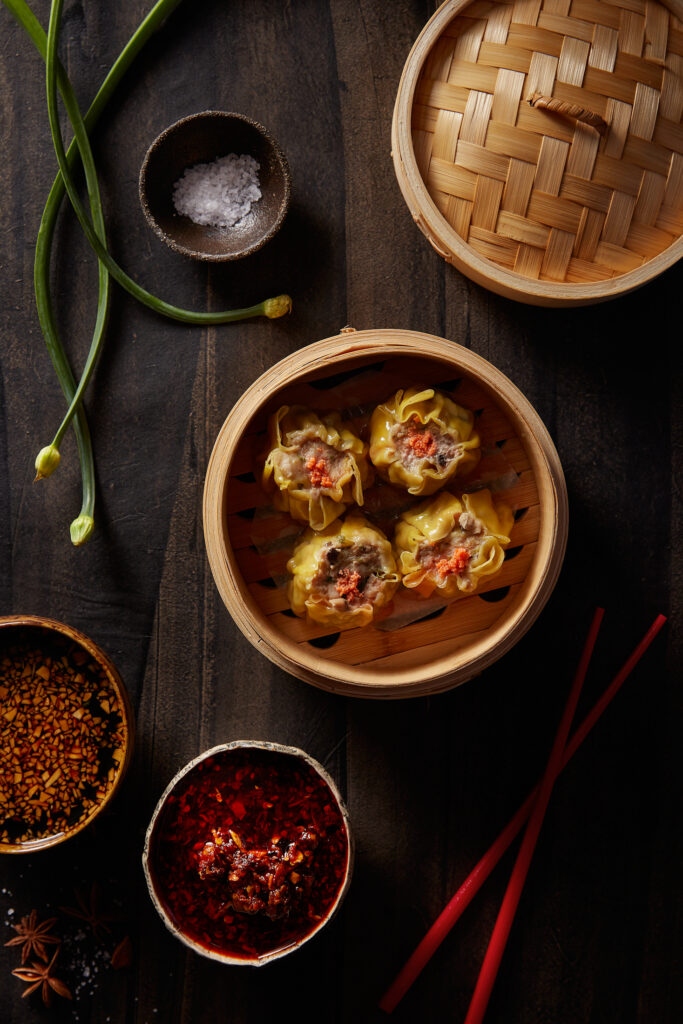 Back in the '80s, Li's parents owned an American-Chinese restaurant, where he says the food was more about making Chinese food acceptable to Western palates. Li is going in the opposite direction. His pop-ups, as well as his in-the-works brick-and-mortar restaurant, The Parlor Dim Sum & Cantonese BBQ, are built around traditional Chinese dishes. Li says he's "trying to make them how they're supposed to be, just as if you were eating at a traditional Cantonese family home."
Roger's advice for dumplings? Watch your dough. "The technique," he says, "is not in the folding, which is what most people would expect. The secret is in the texture of the dough. If you let it sit too long, it gets watery and hard to shape and fold."
It's mesmerizing to watch Roger expertly turn out perfect dumplings in every shape and use the various doughs he's made. He compresses his char siu bao into a tight ball; potstickers are manipulated into crimped packages, and chicken dumplings are wrapped neatly into a tortellini-like triangle. He makes sure that every dumpling is sealed tight, so none of the flavors, fillings, or juices seep out as they cook.
Sauce is a key piece of the dim sum experience, completing each bite with an extra layer of flavor and texture. Available at local Asian grocery stores, XO sauce emphasizes the salty, briny flavors found in seafood and crispy chili sauce brings a bite of heat and fat. The ginger and scallion sauce, which you can make at home with the recipe Roger shares with TABLE, adds a perfect touch of spice and sharpness to chicken.
Story by Maggie Weaver / Photography by Dave Bryce / Styling by Keith Recker
Subscribe to TABLE Magazine's print edition.