Host a rooftop movie night under the stars, or transform your yard into a movie viewing oasis with cocktails and tasty bites.
When my partner and I schemed our summer bucket list, Dylan's top priority was gaining access to our roof. Years prior, a maintenance team had sealed the opening, and I'd given up on rooftop hangs, but Dylan was persistent. I was, admittedly, more nervous about the endeavor. However, once he sawed through the closure, I was obsessed with the potential of the space. 
My designer brain went into overdrive. Within a day of access, I had paint swatches and mood boards of Moroccan riads and tropical courtyards. By day two, I had sourced a furniture set on Facebook marketplace, half of which had to be heaved up the side of the building. Within a week, I had painted a huge swath of the roof in layers of earthy pinks and adobe reds. By the time I was done painting, my face was equally earthy red — a rooftop at noon is no joke, but that was the weather window I had. So be it!
As all the obsessive details came together, an idea was born; how cool would it be to host a movie on the roof?!? I sent out the invite texts and began brainstorming popcorn flavors, sweet movie treats, and a list of films. 
In the meantime, I asked my good friend Lisa Considine to lend her expertise on the cocktail front. The good news is you, too, can channel her cocktail skills for your own backyard movie night. Lisa is one-half of Lo Bar Cocktail Services, a comprehensive mobile bar and cocktail catering business. Whether or not you have a rooftop at your disposal, you too can host a memorable outdoor movie night with all the best snacks and drinks. 
Host Your Own Movie Night:
The Setup:
There are a lot of affordable projector and screen options out there. I recommend a projector with a built-in sound system to make the outdoor setup easier. My screen conveniently folds into a bag with a handle, so I'm ready to take movie watching all over the place.
Movie Choices:
I asked my friend and film/theater buff, Brittanny Spinelli, for some screening advice. She suggested classics that guests have most likely seen before, so if you end up talking through the movie, you're not missing a major plot twist. Think Jaws, Jurassic Park, Goonies, Indiana Jones, Back to the Future, or Princess Bride. We both agreed that anything by Wes Anderson is on the table too.
The Menu: 
-Welcome Cocktail: Hibiscus Margarita
-Grilled Flatbreads: Start with your trusty pizza crust recipe. Or, simplify, and lean on your favorite flatbread or pre-made pizza dough. I like the ancient grain pizza dough from Whole Foods. Then, try both of these combinations.
Pesto, Grilled Corn, Grilled Peaches or Nectarines, Parmesan, Feta or Fresh Mozzarella, Basil

Olive Oil, Minced Garlic, Figs, Bleu Cheese, Dill
-Watermelon
-A DIY Popcorn Bar
-A DIY Treats Bar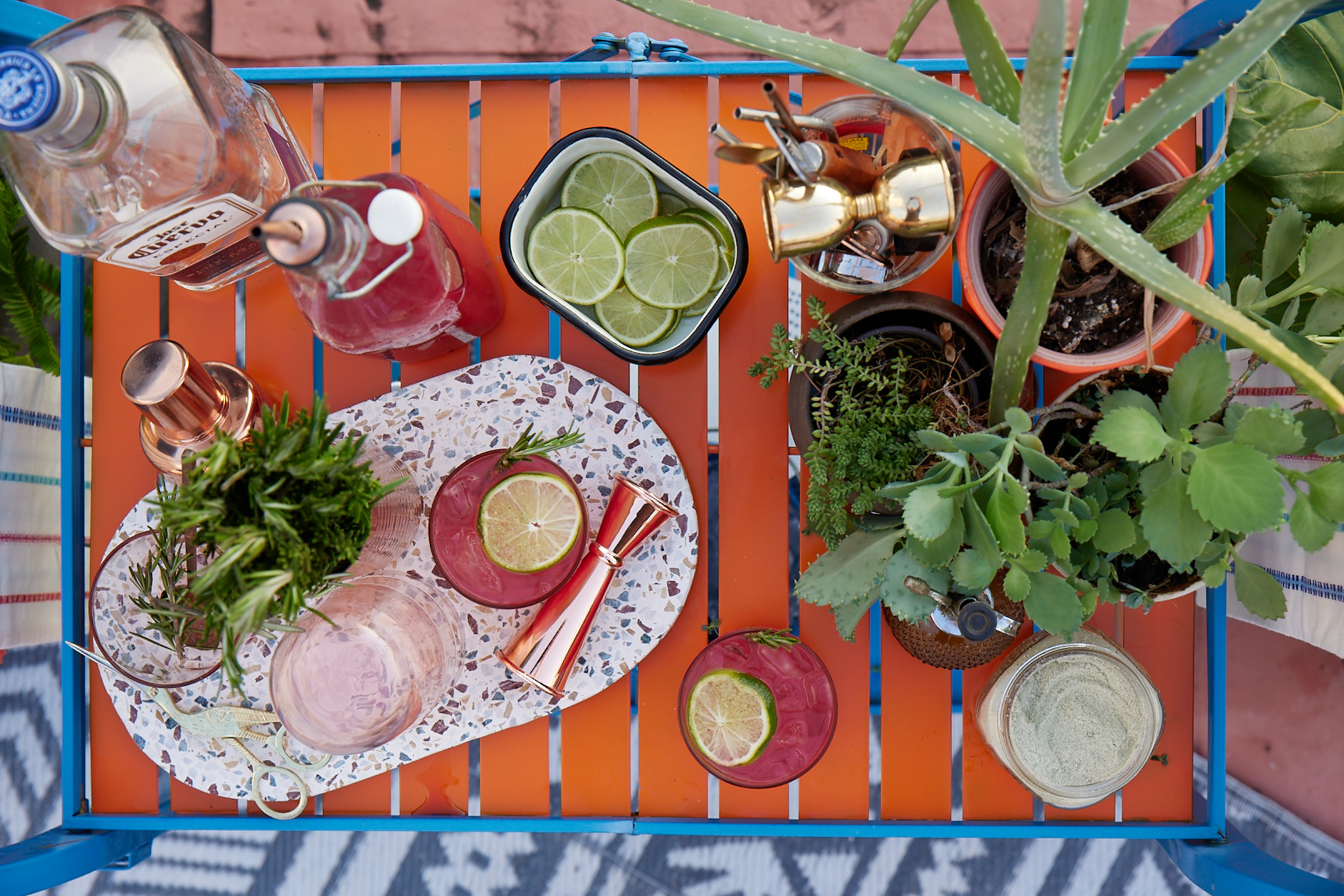 The Drinks:
-Let Lo Bar Cocktail Services do all the heavy lifting for you with a pre-batched mixer, cocktail, or mocktail. That leaves you more time to focus on stocking wine options and the movie setup logistics. The Hibiscus Margarita with lime, rosemary, and rosemary salt is a great choice. 
-Assorted Chilled Wine Options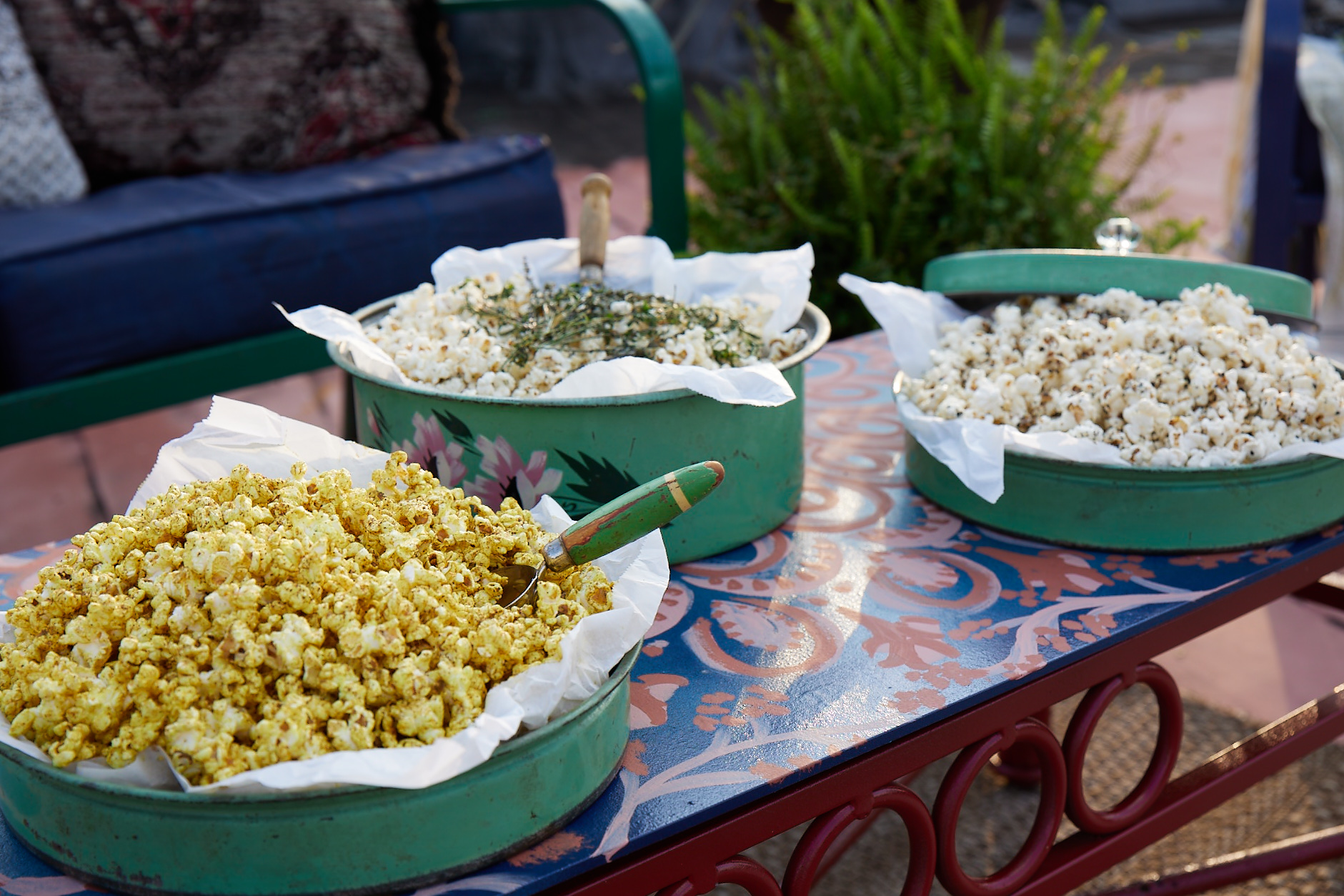 The DIY Popcorn Bar:
You can experiment with more homemade flavor infusions, but here are three solid choices to get you started. 
Vegan Curry Popcorn
Toss 16 cups of hot popcorn with ½ cup melted coconut oil, 2 teaspoons each of curry powder, garam masala, turmeric, and salt. Add more seasoning to taste.
Herbs de Provence Popcorn
Buttery Version: Add chopped fresh rosemary and dried lavender to 1 stick of melted butter. Stir to combine, and set aside to infuse for 15-20 minutes. Heat the butter to melt it, if necessary, then toss the butter mixture with 16 cups of hot popcorn, ½ cup grated parmesan, and 2 teaspoons sea salt. 
Olive Oil Version: Toss 16 cups hot popcorn with 3 tablespoons olive oil, 1/2 cup grated parmesan, 1 tablespoon finely chopped fresh rosemary, ½ tablespoon chopped dried lavender, and 2 teaspoons kosher salt.
Everything Bagel Popcorn
Buttery Version: Toss 16 cups of hot popcorn with 1 stick of melted butter and ⅓ cup of Everything Bagel Spice, or more, to taste.
Vegan Version: Spray 16 cups of hot popcorn with enough neutral olive oil to coat the popcorn. Toss with ⅓ cup Everything Bagel Spice, or more, to taste. 
The DIY Treat Bar:
Want to spark a conversation? Ask your friends about their favorite movie-theater candy choice. As for hosting your movie night, you can go with the classics or offer a little bit of a healthier twist. Try East End Food Coop's yogurt-coated pretzels, peanut-butter pretzels, or naturally-dyed sour gummies and jelly beans. Add some nuts and wholesome cookies to the mix, and you have something for every type of sweet tooth.
Story and Styling by Quelcy Kogel / Photography by Tom Macconnell
Subscribe to TABLE Magazine's print edition.