Inspired by a recent trip to Maison&Objet, Paris's influential design show, TABLE contributor Stephen Treffinger curates a French salût to the great outdoors. These outdoor trends are available online or at local retailers. With his selections, you can turn your open-air living space into a stylish oasis.
Get Playful

Et Voilà: Color!
There was plenty of deep, satisfying color for the outdoors at Maison&Objet, a twice-annual design industry exhibition. The palette ranged from the unusual and sophisticated to the primary and approachable. Powder-coated finishes give everything a clean and modern look. Shown above: Fermob's Bellevie table and Surprising chairs in a scant sampling of the many colors available on a seasonal basis. fermobusa.com

Summer Muse
Based on the famous Teste di Moro from the picturesque Sicilian town of Caltagirone (frequently seen in HBO's The White Lotus), these handcrafted ceramic sculptures are one-of-a-kind and a stunning way to welcome guests … and perhaps to scare off your enemies. Shown above: Il Caciuoffolo, one of many ingenious, exuberant shapes on offer. ovodem.com

Beautiful Barbecues
Even though we Americans consider ourselves the champions of barbecue, Europeans understand a thing or two about making the equipment look fabulous. Behold these stylish and colorful grills that are way beyond the typical backyard fare. Shown above: Everdure's CUBE™ portable charcoal grill. Available in five colors at everdurebyheston.com.

Resplendent in Red
The Eames table, designed in 1964, remains as fresh and modern today as it was 50 years ago. Reissued by Herman Miller x Hay, it's available at Weisshouse in two colors. weisshouse.com

Like the Sun
French dinnerware maker Jars offers its Tourron collection in several colors. Rendered in reactive glazes, this most radiant shade of sunny orange lends its lovely light to your summer table. jarsceramistes.com
Get Serious

Backyard Noir
Outdoor furniture in black (and deep gray) was everywhere in Paris, and we love this development. It's unexpected—striking and graphic by day, mysterious and barely there by night, elegant outdoors or in. An added bonus is that tableware looks great against a black backdrop. Shown above: Fermob's Luxembourg side chair, table, and bar cart in black, one of a wide range of color options. fermobusa.com
These Chairs Are Everywhere!
Found in cafés and bistros, parks, and plazas in Paris and throughout the world, Fermob's classic metal bistro chair is simple, portable, and ubiquitous. The original was designed by Édouard Leclerc and patented in 1889, which makes it the same age as the Eiffel Tower. It became instantly popular with café owners in Paris because it could be quickly folded up and easily stored, allowing owners to avoid paying tax for furnished outdoor areas. In the US, you can find the chairs in NYC's Bryant Park in classic green and Seattle's Occidental Park in bright chartreuse yellow. Twenty-four colors are available, depending on the season.
The Luxembourg chair was made for the eponymous Parisian gardens in 1923 and has become an icon in its own right. It was commissioned by France's Senate and spread from the park to other places in the city. In 1990, Fermob became the official supplier of the chairs to the Luxembourg Gardens, Tuileries, and Palais-Royal gardens, as well as other green spaces around the city. It comes in the same wide array of colors as the bistro chair.

Dark and Textured
The shape of Ethnicraft's teak Bok outdoor chair is inspired by goat horns. It's just as tough and durable. Shown above in oak black, it's available in three finishes. ethnicraft.com

Lounge-worthy
The powder-coated aluminum two-seat August bench by Serax is elegant enough for both inside and outside. Designed by Vincent Van Duysen as part of a larger collection for a Belgian hotel, the shape is beautifully minimalistic and free of distractions. Available in the US through finnishdesignshop.com.
Sleek as a Thoroughbred
Designed by Claudio Dondoli and Marco Pocci for Ligne Roset, the elements of molded and lacquered polyurethane and powder-coated aluminum are perfectly color-matched in the Petra chair for a sleek and modern presentation. ligne-roset.com
Get Natural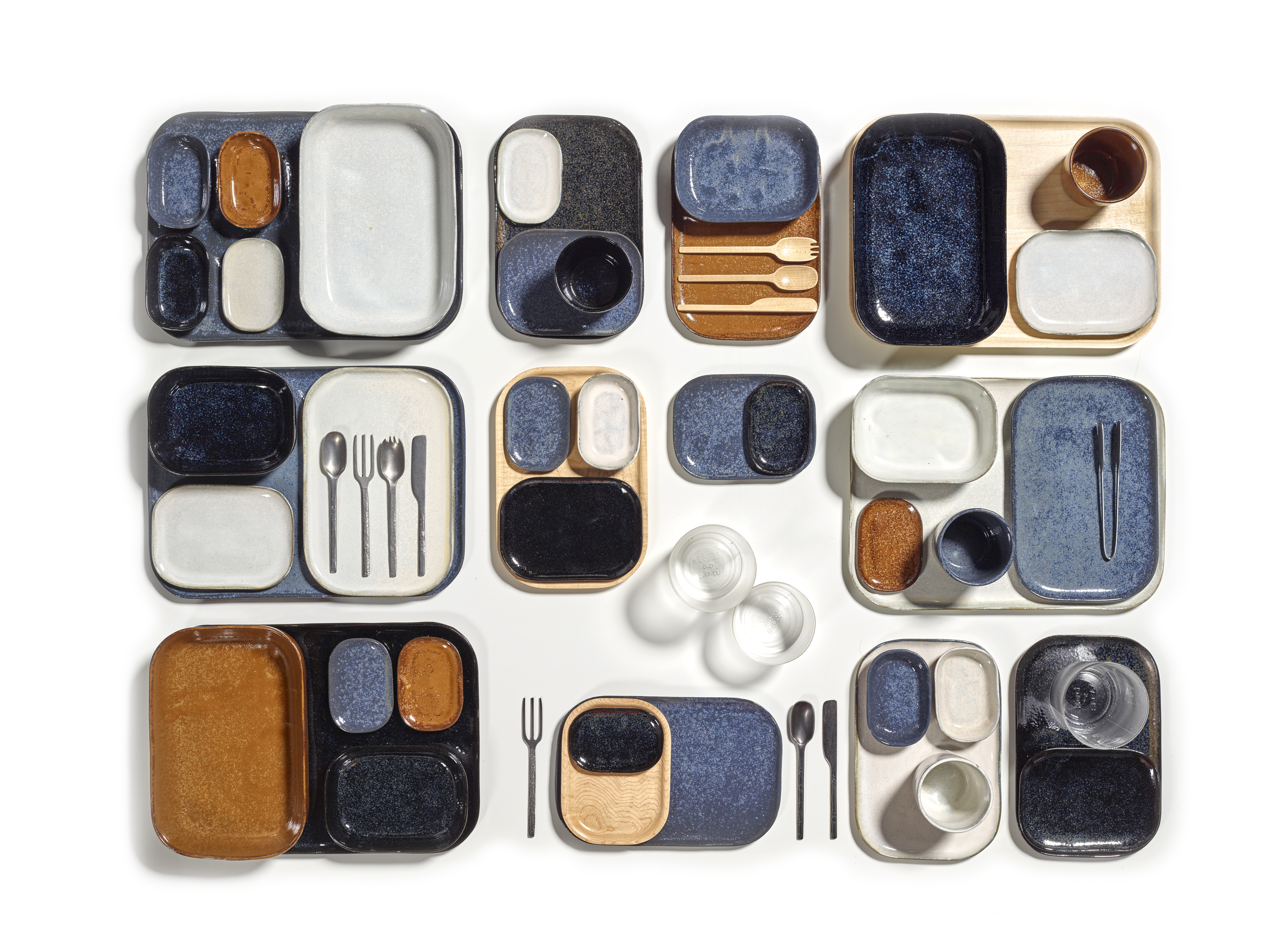 Merci Beaucoup!
Serax's Merci collection is a collaboration between this Belgian design powerhouse and the visionary Parisian boutique, Merci. The high sides of these easy-to-hold rectangular plates keep food where it belongs as you carry it from kitchen to outdoor table. Sophisticated glazes look at home in both lush gardens and minimal terraces. Available in the United States at food52.com.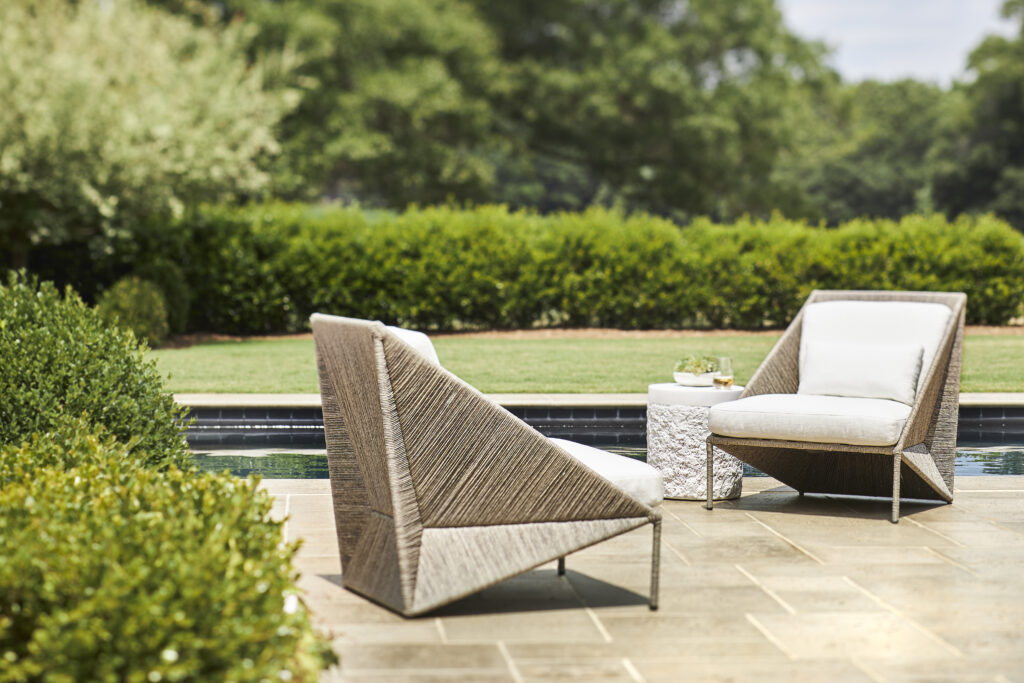 Ingenious Angles
Planes and angles rendered in all-weather wicker bend and bisect into expert folds over a metal frame. The design creates a cocoon-like seat of comfort and style while making a striking statement outdoors or in any interior. Available at Today's Home. todayshomeinc.com
Peacock Tendencies
The Nima peacock chair by Made Goods, handcrafted of faux rattan, recalls balmy film noir evenings of Singapore Slings, ceiling fans, and the tropical mystique. A pair will imbue your outdoor space with immediate sophistication. Available at Antiquarian Shop. antiquarianshop.com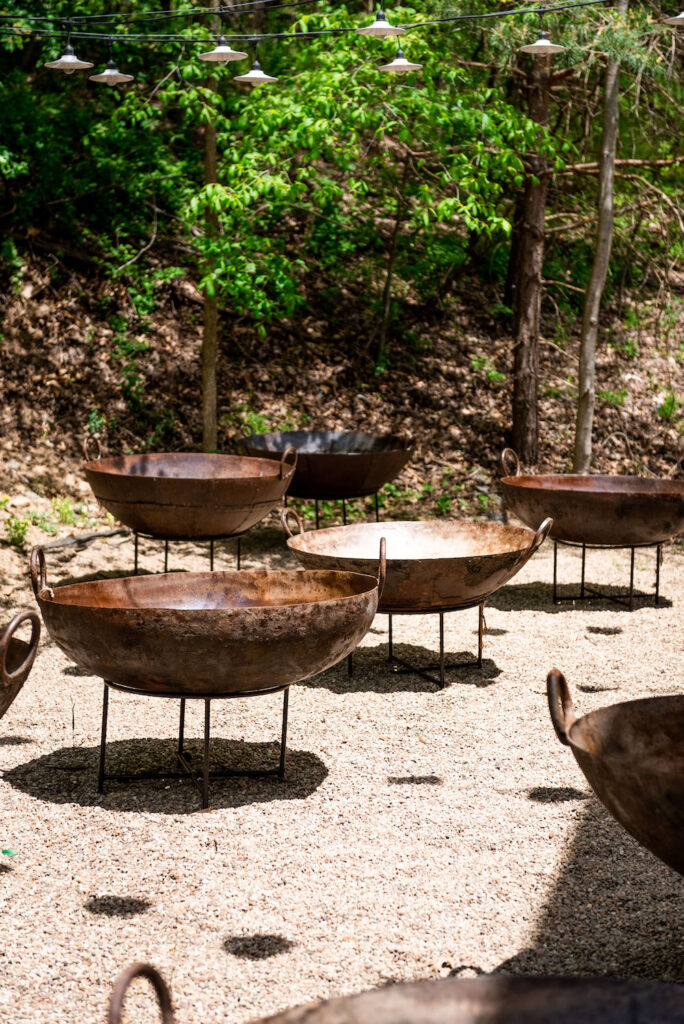 Bowl of Fire
Vintage metal shaped into vessels for fire or plants. These shapely beauties are available at the new Twin Pine boutique in Sewickley, as well as the Wexford location. twin-pine.com
Hungry for more? Subscribe to TABLE Magazine's print edition.