In a quarter-acre plot off PA-837, a garden hangs in all stages of life. With some plants just germinating as others go to seed, things are constantly changing at Amboy Urban Farm in the St. Clair neighborhood of Pittsburgh. At the center of it all is farmer and chef Rafael Vencio, who, much like the farm he has spent the last three years cultivating, is going through a transformation.
Vencio was 20 years into an illustrious career cooking professionally when the COVID-19 pandemic hit, and he invested everything he had into starting a farm, where he focuses on growing flavors of home, the Philippines. A quarter acre might not seem like enough space to grow a nation's worth of fruits and vegetables, but Vencio makes it work.
A bottle gourd, or upo in Tagalog
Home is Where the Farm Is
In a city where Vencio is homesick for dishes like lechón (spit-roasted pig stuffed with lemongrass and calamansi leaves) and sapin sapin (a layered dessert made from glutinous rice and coconut milk, flavored with ube and jackfruit), growing even a few crops reminiscent of his childhood might have sufficed. But at Amboy, Vencio has managed to grow well over a dozen ingredients that speak to the foods he often ate growing up in Quezon City. With frilled sigarilyas (wing beans) in one row and the ever-vining alugbati (Malabar spinach) in another, Vencio has created his own archipelago in the city of bridges.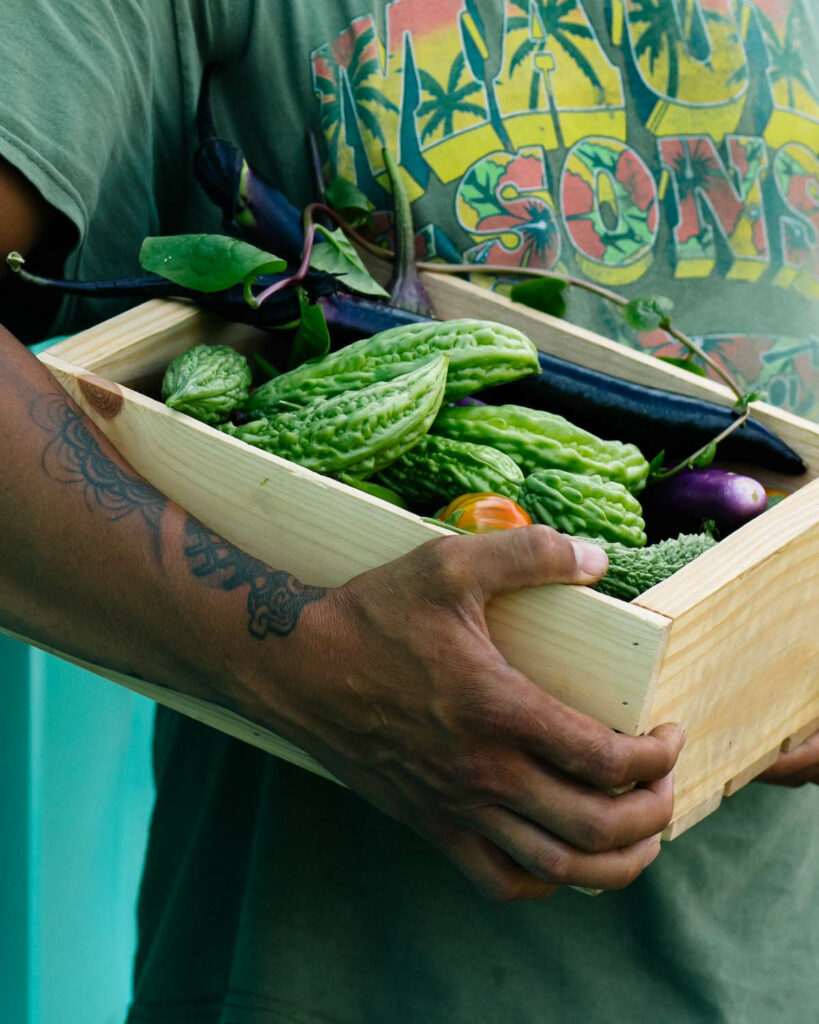 A box of fresh ampalayas, known as bitter melons in English. A bit of eggplant and a tomato are nestled in there as well.
Vencio's first education in agriculture came years before his foray in urban farming. While Vencio describes himself as a city kid at heart, he loved escapes to the rural countryside on his grandparent's farm in the rolling hills of Palayan in Nueva Ecija. For lunch, his grandmother would stuff a chicken with sour shoots from her tamarind tree and young Vencio's mouth watered waiting for that first bite of his favorite homegrown dish. Little did he know that when his grandmother placed the bowl of crispy, roast chicken and fluffy white rice before him, she was serving him a steamy bowl of his future.
Farm Meets Table
He doesn't grow any tamarind at Amboy (yet), but as Vencio emerges from a morning of harvest, carrying baskets full of upo (bottle gourd) and pechay (bok choy), he not only deepens his love of farming, but feels more fulfilled in his culinary pursuits. Between trellising cucumber plants and coming up with solutions for pests and leaky irrigation, Vencio still finds time to cook for special engagements, with an end goal of more permanently merging his culinary and farming skills by opening a brick-and-mortar, "Fillipinx," farm-to-table restaurant in Pittsburgh.
An Uphill Battle
While he heads towards this vision, Vencio has already accomplished so much. Not only did starting a farm require Vencio to navigate through steep learning curves and financial hills, Vencio also had personal battles to overcome.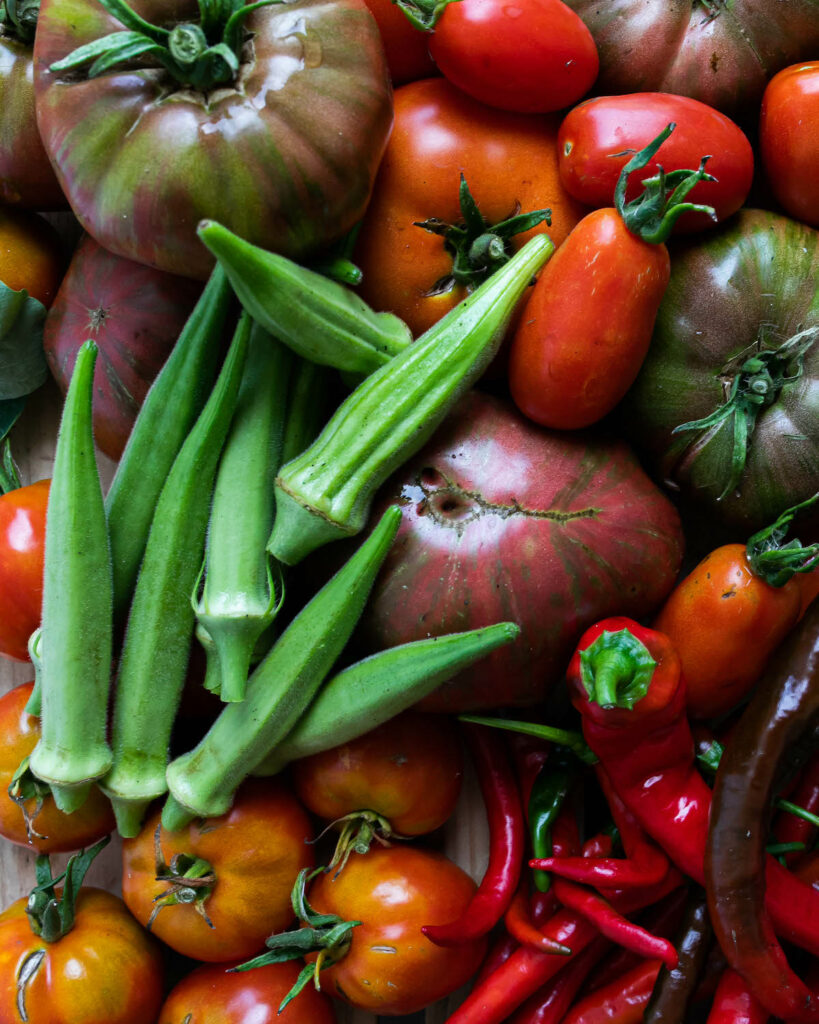 (Left) Vencio at his farm. (Right) A collection of fresh flowers.
"I didn't see myself when I tried picturing a 'farmer,'" Vencio admits as he bundles Hakurei turnips for tomorrow's CSA customers. While "sustainable agriculture" has been shaped by farming practices of Black, Indigenous, and People of Color, it is a predominately white space in the US. Vencio, a queer, Asian American immigrant, has had to forge his way into the narrative. Despite feeling both too much and not enough to be a farmer, Vencio took the plunge.
Always Be My Ampalaya
Now, a few seasons in, Vencio has never felt more fulfilled in his day-to-day. Of course, like the unrelenting groundhog, determined to break through the fences of Amboy to steal a juicy tomato, echoes of imposter syndrome undoubtedly still find their way into the farmer's conscious. But, overwhelmed by the support he has received from customers and fellow BIPOC and queer farmers, Vencio is proud to report that at this point in his journey, he is able to focus more on another tune while at work: bees buzzing from the fruits of his labor and Mariah Carey's "Always Be My Baby" playing from the speaker clipped to the belt loop of his Bermuda shorts.
Beautifully glossy Iroquois beans still in the pod.
"You'll always be a part of me," Vencio sings along as he fills a basket of ampalaya (bitter melon). He holds one up like a microphone, "… and I'm a part of you indefinitely," he continues. He's not just singing love songs to vegetables; he's singing to his home, near and far.
Story by Nina Katz / Photography by Laura Petrilla
Cook like Chef Rafael Vencio:
Grilled-Steamed Water Spinach with Filipino Pork Adobo Sauce
Lumpia with Bottle Gourd and Carrots

Subscribe to TABLE Magazine's print edition.