A bushel of baby-blue balloons punctuated the doorway of here, Lexi Bishop's gallery space on N Taylor Avenue in the North Side. Lydia Rosenberg's new solo exhibition Lamp Store welcomed viewers with a box of Oakmont Bakery donuts and steaming cups of coffee. Lamp Store leans into the use of a gallery as a storefront, and the "grand opening" had the coziness of late autumn, early winter IKEA shopping trip as viewers stepped between and around lamps of different sizes, shapes, and colors. 
Rosenberg's work has a tongue-in-cheek sense of humor and sharp confidence, displayed with the rich, layered eye of an artist in the prime of her career working on large concepts. Lamp Store is the third iteration of Rosenberg's "novel-as-sculpture" series, where she uses installations to tell a wider story she's developing into a novel. The second installment was just down the street from here at the Mattress Factory's Monterey Annex in the form of Do this while I wait. 
"This is my first commercial gallery show," Rosenberg said. "I was always showing in garages, until the Mattress Factory show, and the Mattress Factory is kind of like a garage — an institutional garage! I really wanted to lean into the idea of the gallery as a storefront and treat it like an actual store."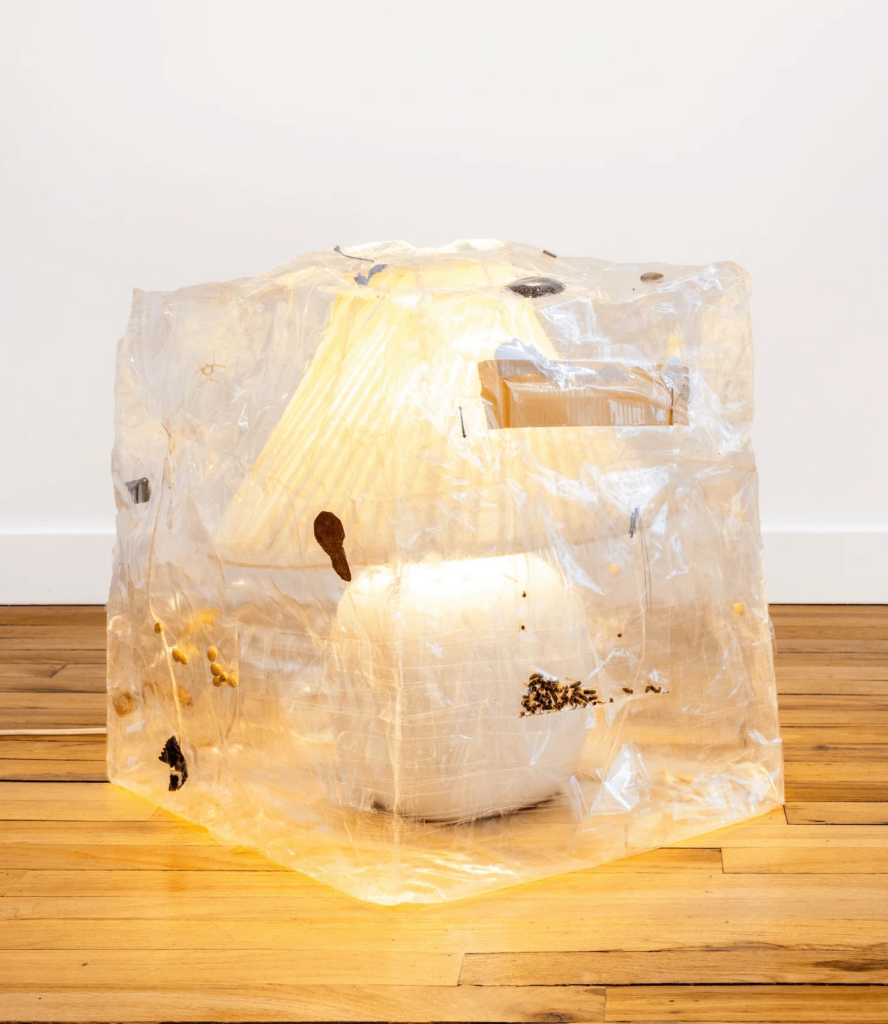 A New Take on Shopping
here is one of a small number of commercial galleries in Pittsburgh — others include Zynka Gallery and Concept Art Gallery — and a consistent conversation in the art scene is how to get people to buy art, particularly fine art of the caliber Bishop shows. Rosenberg's approach is, admittedly, genius. The placement of her sculptures really does make you feel like you're in a store, where you spend time with each object and imagine it in your home.
Part of Rosenberg and Bishop's collaboration was to create affordably priced editions, too, in the form of six lemon-shaped lamps and six Ibuprofen bottle night lights. (The night lights were an extension of a project where Rosenberg turned gutted Ibuprofen bottles into incense holders, which is as funny to see in real life as it is to read on the page).  
But beyond the editions, every object in Rosenberg's catalog invites careful looking. Rock Salad has a lampshade made of artificial lettuce. Lector Spector is a "séance trumpet lamp," a kind of light fixture used during the spiritualist movement. "I wanted to make a piece about the 'lector,' this profession that no longer exists, a person who would read to factory workers so they wouldn't get bored," Rosenberg explained. So, Lector Spector was the combination of that concept and a visit to the town of Lily Dale, NY, the American capital of séances and mediumship. 
Real-life Inspiration
Many of the works take titles from characters in Rosenberg's life, including GL, a man who emailed her thinking she was his estranged daughter with whom she struck up a friendship, and DR, her actual father, a Pittsburgh-based former archivist who was also in attendance. "I was interested in how I could fictionalize people in my life as part of these novel-as-sculpture shows," Rosenberg said. Wandering through the forest of metallic structures does make you piece together a story of sorts — when you go into a store, the object that catches your eye is the one you place in the setting of the story of your life. Rosenberg's work raises these questions about how we relate to the objects that fill our physical and emotional lives. 
Lamp Store also showcases Bishop's versatility as a gallerist who's capable of both taking a chance on a new voice, as she did with recent Carnegie Mellon graduate Ester Petukhova in September, and of expanding on a high-concept existing body of work as she did with Rosenberg. At Lamp Store's "grand opening" on October 21st, there was a steady stream of guests during the 11 a.m. -2 p.m. open hours. Gallery openings typically are evening affairs, but a cozy storefront on an autumn day brought people in for the early afternoon. Lamp Store needs to be seen in person, and with daylight savings fast approaching, we all need a little bit of light. 
Lamp Store runs through November 18 at here, with gallery hours Wednesday 11 a.m.-2 p.m. and Saturday 3-6 p.m.
Story by Emma Riva

Subscribe to TABLE Magazine's print edition.