What's right now? Because the world changes so quickly, that question burns in our minds regularly. As humans, we live through our senses, and part of the answer involves art and design that soothes us, supports us, and delights us. We need that nourishment to face the challenges of our time, at home and in society at large. TABLE Magazine looks at fall and winter trends in art, craft, and design that are just right for our lives in 2023.
Earth and Fire
Fired earth pieces go back many thousands of years, and the material continues to inspire new generations of artists and artisans. Pushing the limits of form and technique brings shapes that are simple, sinuous, and sometimes even a little scary.
Shadow Play
A combination of nostalgia and otherworldliness, the flowerlike, handmade Ana pendant has an open form so it will cast intriguing shadows around the room. The Brooklyn-based designer, Virginia Sin, seeks to refining building forms with coils and exploring the limits of clay.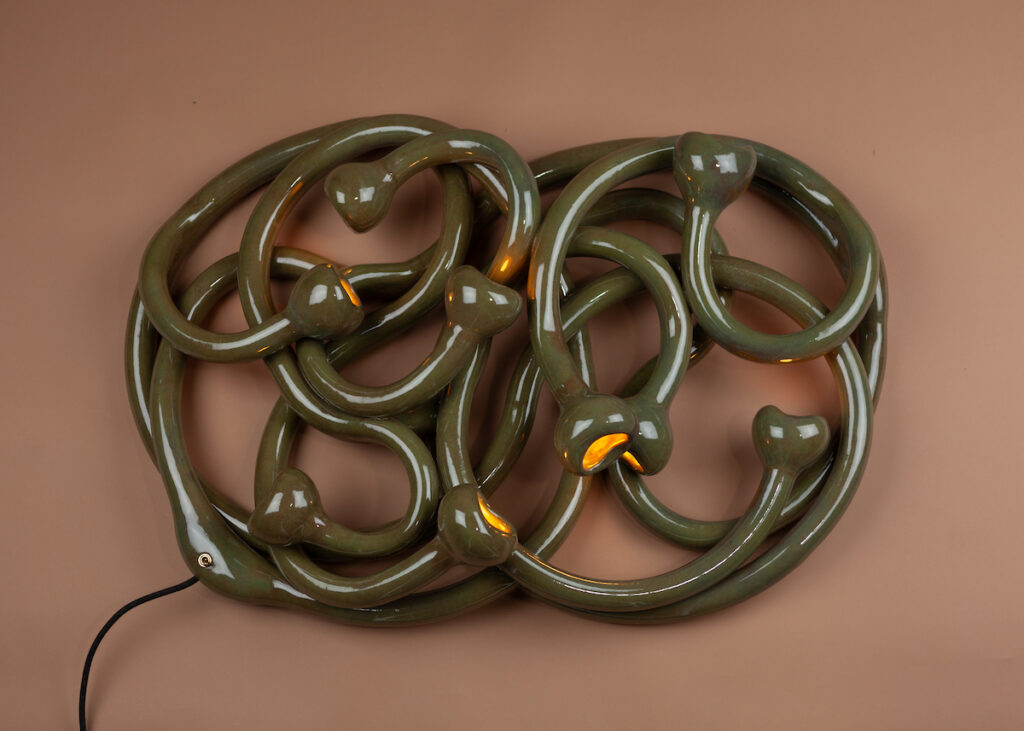 Artful Entanglement
St. Louis-based Daniel Shapiro creates imaginative, one-of-a-kind sculptural lighting and furniture. The Large Wall Squiggle is made from more than 30 feet of extruded stoneware and features nine bulbs in what look like the mouths of lampreys. It is available in various finishes. Inquire for price and availability at helloshapiro.com.
Philip Soucy
Slender tendrils of porcelain swirl into vessels by Pittsburgh ceramist Philip Soucy. Like undersea lifeforms, no two are alike: each moves to its own current. A recent series of vessels takes on tinges of ancient ochre color thanks to a soda-firing process. Just as Soucy's coiling creates unpredictable shapes of Soucy's work, the kiln's color effects are spontaneous, doubly ensuring that no two vessels are ever alike. Available at Lawrenceville's Shoppe B and thesoucyshop.com.
Marce Nixon-Washington
This young local ceramist boldly explores the patterns of African textiles in her recent work. The rich textures of her coil-built vessels are evidence of the physical process of their creation. Bold patterns wrap these vases, inspired by Mali's bògòlanfini textiles, made with fermented, iron-rich mud. Her beautiful glazed compositions radiate joy, which seems to be Nixon-Washington's gift to every viewer who takes a moment to contemplate the work. Find her on Instagram @marce-clay.
Story by Stephen Treffinger and Keith Recker / Principle Photography by Dave Bryce
Subscribe to TABLE Magazine's print edition.