It is a commonly held belief that redoing a bathroom will increase your home's retail value. But what if you also want something you truly love? Amanda Boch's renovation of this guest bath served both: a space that's fresh and unique while retaining an appealing, neutral tranquility.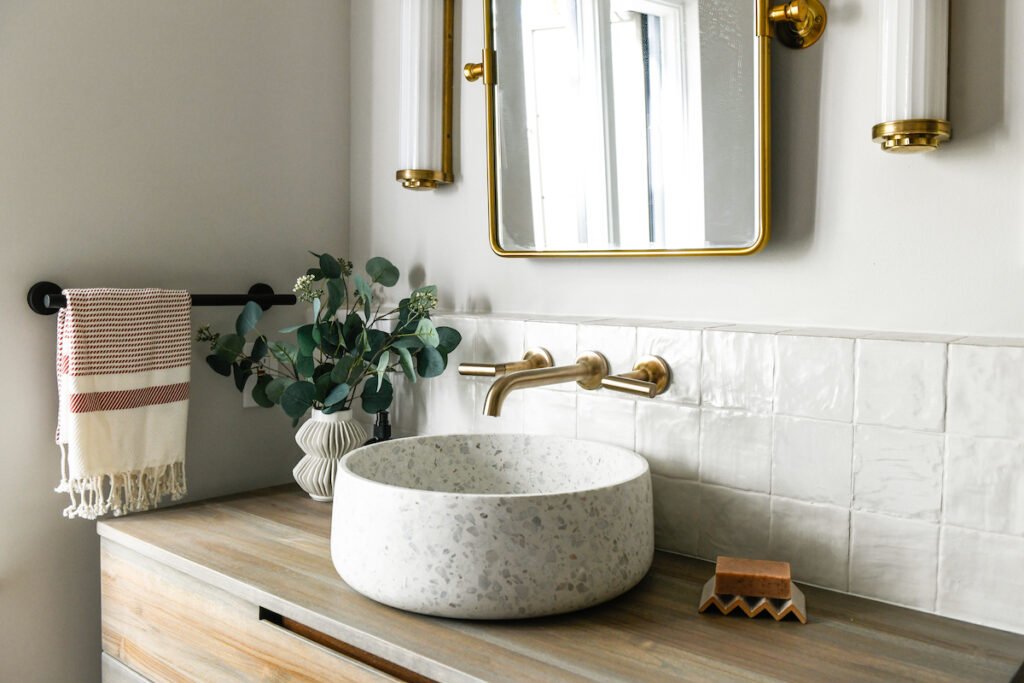 The light colors and natural elements exude calm
Let the Sunshine In
The client wanted to bring in natural elements like wood but still have a modern and spa-like feel. So Boch used plenty of Moroccan zellige tile, whose irregular surface gives a shade like white plenty of character. "When the light hits it, there's a shimmer. There's variation because it's a handmade tile," she says.
Wanting the look of a wood floor without the problems it would face in a wet environment, Boch opted for porcelain tile with a twist—it looks just like real hardwood. "Tile has come a long way in making it look more realistic."
Beguiling Simplicity
The floating wood vanity keeps the smallish room feeling more open (and the floor easier to mop). "It's pretty substantial and has these deep drawers with a lot of space." As a result, she was able to opt out of a medicine cabinet. "I love putting a nice pivot mirror in the bathroom. It adds some dimension to the space because it's not just flat against the wall. And the hardware detail on the sides is just so beautiful." A pair of sconces look like they were made to go with the mirror, but are actually from different brands. Together they make a truly compelling trio.
When it came to a sink, the client requested a bowl, an element Boch calls "polarizing." Although not a fan of the diminutive basins herself, she saw this one as an opportunity to layer in more subtle color and texture by choosing a terrazzo model. Even though it's not a "wow" moment per se, next to the white tile and on top of the neutral wood, its character shines.
Taking deep breaths is easy in this spa-like bathroom
Inset shelving in the shower wall and a pair of wood shelves over the toilet help to keep things tidy. To augment the spa feeling, there are plenty of soft, striped, and fringed Turkish hand and bath towels from Olive & Linen in various sizes. Breath in, breath out.
Story by Stephen Treffinger / Photography by Erin Kelly

Subscribe to TABLE Magazine's print edition.