What happens when a European with an accomplished palate makes a deep study of the wines of Lake Erie? Quelle surprise: He develops a sincere new appreciation for both the region's terroir, its vintners, and the wine itself. TABLE contributor Pierre Brun shares his recent wine journey and the results of The Challenge of Lake Erie, the blind-tasting session he organized to pit established wines of Europe against those of a younger generation of Lake Erie winemakers.
There is a French expression that says: Il n'y a que les imbéciles qui ne changent pas d'avis, which means "only fools never change their minds." This statement applies to me regarding Lake Erie wines, and I admit that this recent change of mind came as a complete surprise.
Let me tell you about myself.
I grew up in Friuli Venezia Giulia in northern Italy and also lived in Belgium, at the crossroads of Germany, the Loire Valley, and Alsace — all rightly famous for their many centuries of excellent winemaking. Our family table was itself a crossroads of Friuli, Collio, and Alto Adige, all places where, I believe, we find some of the best wines (and foods) from northern climates.
Fifteen years ago, my brother-in-law, who lived in Burgundy, came to visit our family to sail on Lake Erie and search for some good local wines. After tastings at several local wineries around the lake, we left quite disappointed. We were hoping to discover a unique terroir with bright, floral northern grapes, but most of the wines we tried were neither very complex nor delicate.
While a typical winery in Europe generally serves a much drier wine selection, all the wines we tasted at that time were very sweet. Traditionally, sweet wines are consumed after dinner. Around the world, they are a very risky endeavor, given the necessity of a late harvest, as with ice wines. But they are also loved by many for their unique flavors.
At the peak of harvest season this past September, Jeff Swensen, a good friend and photographer for TABLE Magazine, called me to join him on a challenge he had taken up to document winemaking in the Lake Erie region. I did not have much enthusiasm or very high expectations, but since I love all wines, even the sweet ones, I accepted, and we were on the road the next weekend.
My quick research of the area revealed why Lake Erie was chosen as a region for wines and orchards as early as the first part of the 19th century. The geological layers — both the soil and what lies underneath, which can be called the "Erie Terroir" — are a unique environment rich in the nutrients needed to grow good grapes. In Europe, the concept of terroir, however, goes beyond geology. Terroir is the specific taste of a region. It's all about the character of a product defined by its provenance. For example, prosciutto di Parma, made from pigs raised in Bologna and finished using the materials and traditions of the region, doesn't taste like prosciutto di San Daniele, which is made in the northern Italian region of Friuli Venezia Giulia, which has its own distinct methods and materials. The air, the soil, and savoir faire of the farmer and the culture give each type of prosciutto its unique aroma, flavor, and texture. The unique spirit of the land, the terroir, is showcased in the tasting experience of its prosciutto. Terroir is a way of defining and celebrating what a region does best. The same is true of wines.
The Lake Erie region became a perfect growing location because of its ancient history. As many local farmers explained, when the glaciers retreated, they eroded the hills and left behind a perfect soil full of sand and gravel with a lower bed of clay. Why is this important? The soil is rich with nourishing minerals, to be sure. The gravel forces the vines to work hard to establish themselves, which improves the character of the grapes. The sand allows for good drainage, which keeps the roots from being too damp and prone to disease. On the other hand, the underpinning of clay means that the fields will not dry out too quickly and deprive the vines of the water they crave.
"The region has also a unique microclimate to allow a longer growing season. Its combination of sun, fresh water, and the rapid warming of the lake with a generous breeze supports an almost perfect ambience in which to grow grapes. Not too much humidity, and not too much frost. The combination of geology and weather helps this region support the largest viticulture in North America, outside of California. I soon learned that the humans who live here are just as vital to the region's terroir."
As we were heading north to the Lake Erie and Chautauqua wine trails, 50 miles long, dotted with 23 wineries, we picked Courtyard Winery in North East, PA, as our first stop. The reception we received was amazing. All the owners and winemakers (or, more simply, farmers, as they like to call themselves) were welcoming and extremely knowledgeable about their land and operation.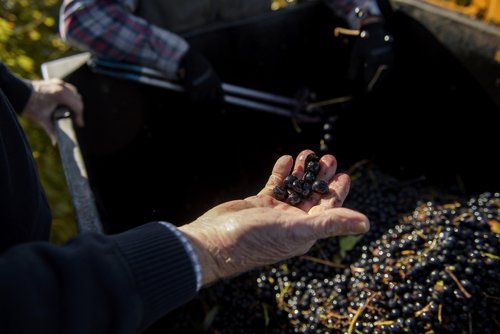 When you enter a winery around Lake Erie, you are confronted with abundant sweet wine "propaganda." Randy Graham, the owner of Courtyard, explained why this is more heritage than handicap: "Sixty to 80% of what we grow goes to Welch's." Concord grapes require less rigorous maintenance and can be sold easily locally for juice production. This sort of dependable economic underpinning is certainly one of the strongest advantages any farmer can have. The wine industry is not an easy market, and having some stability to lean on has afforded many farmers the chance to become better winemakers.
At Courtyard, my first glass of Merlot was a revelation. It reminded me of wines I have had many times growing up in Italy. Merlot is not a preferred grape in my region, but some do it well, and with the right local foods, it comes to life because it belongs. That's the sensation I had when sipping this first Erie wine.
We switched to white, and we were once again bewitched, this time by the Riesling. It was not too sweet and offered just enough acidity and a beautiful bouquet…all the things I would expect from a truly good Riesling. Afterwards, while driving his truck through the vines, Randy showed us how Penn State and Cornell University have been working for many years with all the farmers to create hybrids of resilient grapes perfect for the region and its weather. The Noiret grape is certainly the best example of this effort, and it is often a feature of red wines made in the region.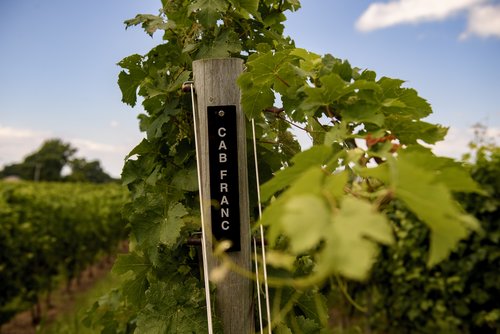 The other amazing discovery was that today's vineyard owners represent a second or third generation of growers. Some of them left promising careers to come back home and to pursue their dream of making better, more elegant wines. Kris Kane of 21 Brix Winery, our next stop, is a good example of this trend. This third-generation family farm has been growing grapes since the 1950s, currently harvesting 17 varieties. Kris intended to become a chiropractor, but realized that his calling was vines and wines rather than bones and sinews. He apprenticed at Presque Isle Winery for 10 years. That experience, alongside a stint at a winery in Australia, fueled his family's entry into winemaking. Each 21 Brix wine was an amazing surprise, but the Gewürztraminer and the Cabernet were the highlight of the tour. Not only do these younger winemakers use French oak, they are also attentive to allowing their wines very little oxygen contact so that they might preserve the fruit in such a way as to produce a quality wine.
Soon after our first tasting, Frederick Johnson, Jr. and his wife Jennifer called us to come to the oldest estate winery of the region, Johnson Estate. Their welcome was even bigger as they accompanied each wine with a unique taste of local cheese and charcuterie. Their méthode champenoise sparkling Traminette, as well as their Maréchal Foch, were delicious discoveries.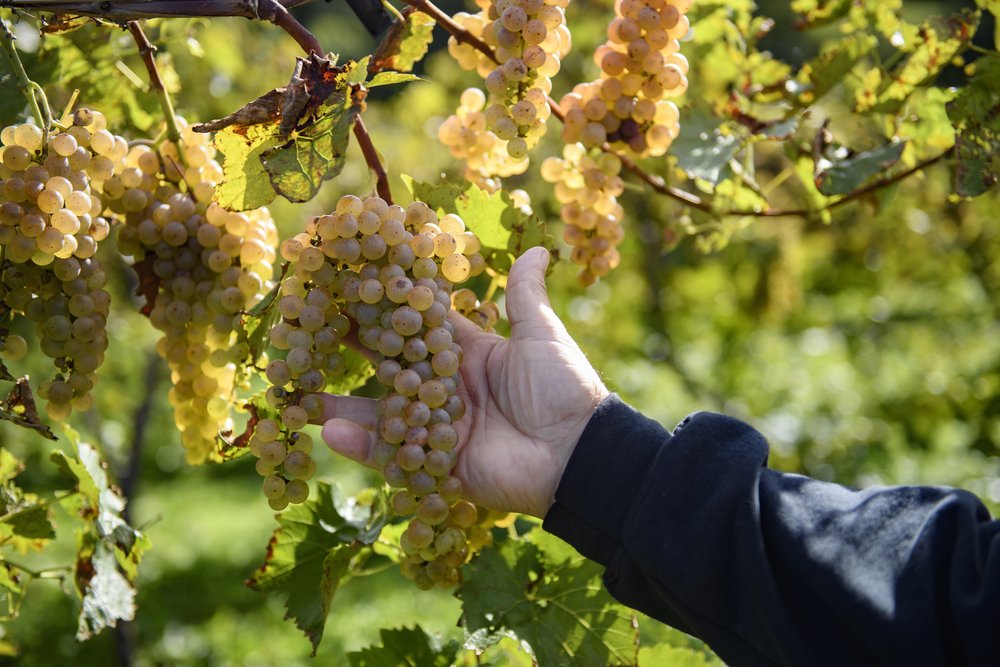 We felt we needed three more winery visits to complete our project and were introduced to Liberty, Presque Isle Winery, and, finally, the famous Mazza Vineyards. Each opened their arms and welcomed us into their cellars, sharing not only their extensive wine selection, but also their expertise. Bob Mazza described the region's great potential, and its constant evolution over the past 50 years. Mazza is certainly the most prominent and award-winning name in the region with winemakers coming from established wine regions in Europe and Argentina.
As we drove home, I began to wonder how I could convince my skeptical peers (both from Europe as well as the United States) that, firsthand, I saw and tasted a virtual rebirth in the region, thanks to the enthusiasm and hard work of all these producers? I remembered the story of Napa Valley wines: their rise to broad recognition required the courage of just a few people who shared them with very skeptical French wine aficionados. After a famous dinner and blind tasting called the Judgement of Paris in 1976, where Napa Valley frequently triumphed over comparable French vintages, the region began to be appreciated for its fine, accomplished winemaking.
We asked all the wineries we met with to allow us to stage a blind-tasting competition, The Judgement of Lake Erie, with our favorite Erie wines so that we could see whether our personal enthusiasm would be affirmed by a broader consensus of palates. In a second, smaller blind tasting, we then pitted the winning Erie wines against established wines from Europe to see how they would fare. I hoped that this second session would confirm my conclusions about the current level of Lake Erie wines.
At home in Pittsburgh, we selected 12 oenophiles (six men and six women) who had a passion for wines and enough worldly tasting experience to be the judges. Because every bottle was wrapped identically and coded with numbers and letters, none of the tasters selected knew what they were drinking. The selection consisted of 12 flights of Lake Erie wines in the following categories: Sparkling; White (Rosé, Riesling, Grüner Veltliner/Gewürztraminer, Pinot Grigio, and Chardonnay); Red (Foch/Pinot Noir, Noiret, Merlot, Teroldego, Cabernet, Blends). Ten days later, we assembled four final tasters to compare the winning Lake Erie wines with well-known and very credible European wines.
Everyone at both tastings was amazed by the quality of the wines they sipped. Some of us were able to identify grapes, or even recognize specific wines, which is a statement to the quality of the local terroir. They certainly deserve a place at our dinner tables, and at tables around the world. Their makers just as certainly deserve esteem for their efforts and the results. We predict that Lake Erie will continue to surprise more than one drinker with its stunning vineyards and amazing future.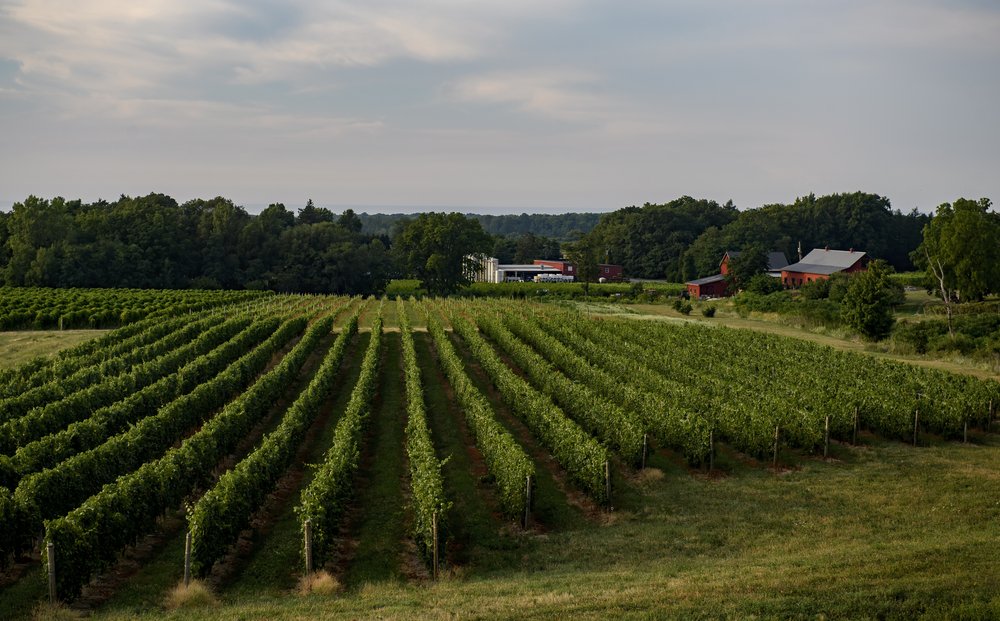 THE JUDGEMENT OF LAKE ERIE, SEPTEMBER 2022
The winners of Pierre Brun's first all-Lake-Erie blind-tasting by category.
Grape Winery Winner
Maréchal Foch/Pinot Noir. JOHNSON ESTATE Maréchal Foch 100%
Sparkling 2020 JOHNSON ESTATE Freelings Creek Reserve Traminette
Dry Riesling 2020 MAZZA Riesling 100%
Gewürztraminer 2020 21 BRIX Gewürztraminer 100%
Pinot Grigio 2020 MAZZA Pinot Grigio 100%
Chardonnay 2020 MAZZA Chardonnay 100%
Merlot 2018 COURTYARD Merlot 100%
Noiret 2018 COURTYARD Noiret 100%
Teroldego 2018 COURTYARD Teroldego 100%
Cabernet Sauvignon/Franc 2019 21 BRIX Cabernet Sauvignon 100%
Rosé 2019 MAZZA The Perfect Rosé 97% Chambourcin, 3% Seyval
Blends 2020 JOHNSON ESTATE, Founder's Red 90%, Chancellor 10% Pinot Noir
This tasting revealed a few clear trends. The white-wine category, which is certainly the highlight of the region in terms of grape and terroir, saw a global winner in Mazza Winery. They finished first in the Rosé, Riesling, Pinot Grigio, and Chardonnay categories, with 21 Brix winning with its stunning and flavorful Gewürztraminer.
An award for the sparkling wines (or méthode champenoise) was also given by our tasters, as they were excellent and in very consistent balance with what a non-French champagne can be. Johnson Estate Sparkling Traminette and 21 Brix distinguished themselves very clearly, suggesting that we might envision this region as an eventual "new Reims," with distinctive wines drawn from its own viticulture.
During the red tasting, Courtyard Winery in the Merlot, Noiret, and Teroldego category was the big winner. 21 Brix, with its Cabernet Sauvignon, really amazed our group. Finally, Johnson Estate, with its Maréchal Foch, won the Pinot category, and their Freelings Creek Founders Estate won the blind tasting.
THE JUDGEMENT OF PITTSBURGH, OCTOBER 2022
Based on the results of the first tasting, Pierre selected eight Erie wines that he felt could compete against reputable international wines. A new group of four tasters came together a week later with the following results.
Rosé: The 2020 Mazza Perfect Rosé again came out on top over another Erie wine and a 2020 AIX Coteaux d'Aix-en-Provence. The winning wine caressed the palate with notes of fresh red berry and nectarine aromas, all with floral and mineral overtones.
Pinot Grigio: Bottega Vinaia 2021 Pinot Grigio, a classic wine from the Trentino region, tied with the 2020 Mazza Pinot Grigio for the top spot. Santa Margherita, the classic Pinot Grigio from the Adige River Valley which is consumed around the world, placed a distant third. The Mazza wine was crisp with well-balanced aromas of golden apple with a slight residual sugar.
Riesling: Mazza won again, pitted against another Erie wine and a Christophe Mittnacht Terres d 'Etoiles Riesling 2019 from Alsace. The winning Mazza wine was floral, almost off-dry, with notes of lime, apple, lemon, and mineral.
Gewürztraminer: 21 Brix won handily against a 2021 Willm Reserve and a 2021 Trimbach, both from Alsace, and both quite uninteresting compared to the winner. The full fruitiness of the 21 Brix wine was beautifully layered with a floral aroma and rich and delicate notes of citrus, pear, and peach.
Merlot: Courtyard won against another Lake Erie wine and a Right Bank Bordeaux, 2019 Chateau Haut Peyruguet. The flavors here recalled ripe blueberries and black and red fruits, alongside notes of cocoa during a long finish.
Pinot Noir: We had a European victory with a 2018 Trimbach Pinot Noir Reserve from Alsace and a 2020 Nicolas Idiart Pinot Noir from Loire Valley coming out ahead of the Johnson Estate 2019 Maréchal Foch.
Noiret: Only Lake Erie competed here because this regionally-specific grape is not grown elsewhere. Courtyard won with its 2019 Remington Road Vineyard. Noiret tasting notes included elements of raspberry, blackberry, cocoa powder, cherry, and strong espresso. The overall effect is very close to a Syrah.
Cabernet Sauvignon: We did not necessarily imagine that the Lake Erie region would prevail, but it did! The 2019 21 Brix Cabernet Sauvignon won against 2020 Alexis Lichine and 2020 Villa des Anges, both from the Languedoc region. The notes here were of dark fruits and cherries, blackberries, chocolate, and some spice. This wine has well-structured tannins, and a lovely long finish.
Story by Pierre Brun / Photography by Jeff Swensen
Subscribe to TABLE Magazine's print edition.