Salvatore Ferragamo brings his family's storied focus on quality to Il Borro, a luxury resort, vineyard, and historic site, a gem hidden in the Tuscan hills.
Nestled in the heart of the picturesque Tuscan countryside, Il Borro Estate and Winery stands as a testament to Italy's rich history, impeccable craftsmanship, and outstanding viticulture. With its roots tracing back a thousand years, now under the ambassadorship of Salvatore Ferragamo, this remarkable estate encapsulates the essence of timelessness and sophistication, offering visitors an unparalleled experience that seamlessly combines heritage, luxury, and exceptional wine.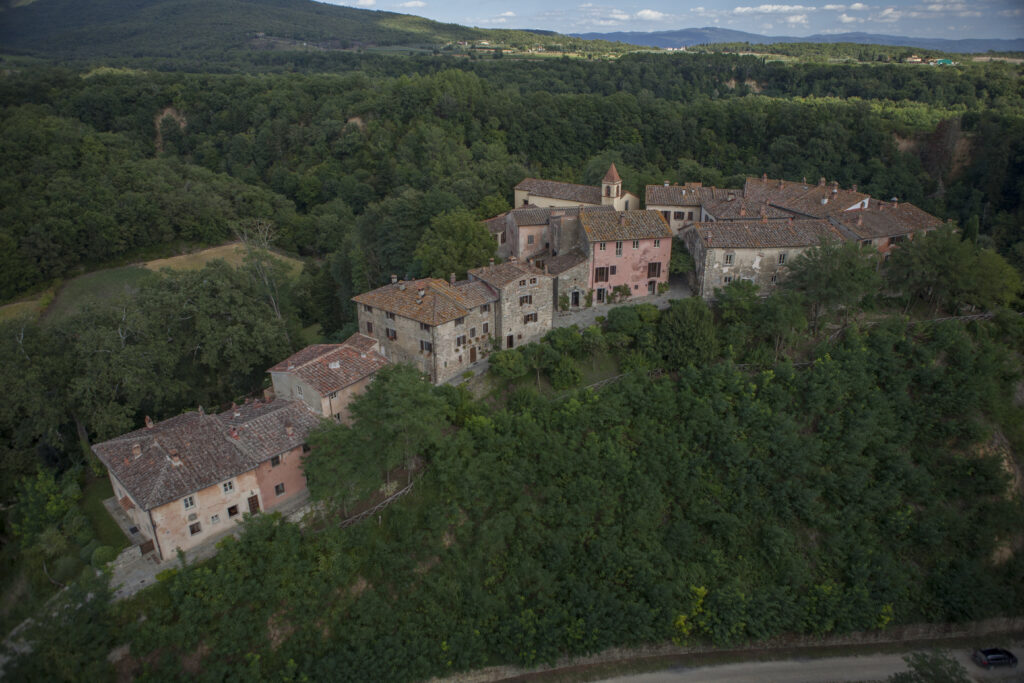 Spread across 700 hectares of rolling hills, Il Borro Estate's captivating landscape boasts vineyards, olive groves, and ancient woodlands. This haven of natural beauty is a feast for the senses, providing a serene backdrop for a journey into the world of fine wines. The estate's commitment to sustainable farming practices further enhances its allure, inviting guests to witness a harmonious coexistence between man and nature.
At the heart of Il Borro lies its esteemed winery, where centuries-old traditions harmonize with modern winemaking techniques. The estate produces a diverse range of wines, each crafted with precision and passion. From robust reds like the flagship "Il Borro" and "Polissena" to elegant whites such as "Pian di Nova," every bottle encapsulates the flavors of the land and the expertise of the vintners.
Beyond its vinous treasures, Il Borro offers luxurious accommodations that seamlessly blend history with opulence. Restored medieval villas and suites provide a glimpse into the estate's storied past while offering every modern comfort imaginable. The village square, with its charming shops and gourmet restaurants, invites guests to indulge in authentic Tuscan cuisine paired perfectly with Il Borro's exquisite wines.
Il Borro's commitment to preserving heritage extends to its exclusive experiences. Guests can partake in guided tours of the vineyards, winemaking facilities, and historic cellars, gaining insight into the artistry behind each bottle. Tasting sessions led by knowledgeable sommeliers offer a chance to savor the culmination of Il Borro's dedication and expertise.
Salvatore Ferragamo Brings a Piece of Tuscany to Pittsburgh
An Italian Affair Love at first sip…
ONE PASSION, ONE EXPERIENCE. NINE EXTRAORDINARY WINES.
An Exclusive Italian Wine Tasting… Featuring Salvatore Ferragmo
A Medici Global Importers Event
Salvatore Ferragamo's Legacy of Quality
WHAT PROMPTED YOUR DECISION TO JOIN IL BORRO OVER THE FASHION SIDE OF YOUR FAMILY BUSINESS?
In order to join the family business, a university degree, three years at a company not related to the family, and a graduate degree like an MBA, are required. Though I fit the bill, I am also a person who loves the challenge of creating new projects and bringing old ones back to life. Il Borro was just this opportunity. I fell in love with producing world class, 100% organic wines which express the noble terroir of our region. In addition, the property 's 1000-year-old medieval village has been transformed into a five-star Relais and Chateaux hotel to provide our guests a unique, authentic experience of the estate, replete with unique farm to table dining experiences. Il Borro is truly a special place, and I am very passionate about it.
WHEN SOMEONE TASTES AN IL BORRO WINE, WHAT DO YOU WANT THEM TO FEEL FROM THE FIRST SIP?
In a word: Tuscany!! At the property, we sustainably produce wines with a unique concept of terroir in two styles of production. We use indigenous grapes like Sangiovese to make unique wines, like our sparkling Bolle di Borro, which rests on the lees for 60 months. But we also make wines with international grape varieties like Merlot, Syrah and Cabernet to produce our super-Tuscans. In both cases, I feel it is important that you taste the hot days and cool nights of Tuscany, our biodiversity, and our altitude. From your first sip, you experience intensity and persistence on the palate, but also the special balance of structure and freshness which is unique to Tuscan wines.