Tucked into the rolling green fields outside Ligonier, realtor Donna Tidwell's home draws in friends and neighbors like a beacon. Donna's warm, relaxed style is part of the attraction, but the kitchen completes the picture. It was built precisely to host a party.
The house flows easily from the living room to the kitchen and beyond to the dining area, beckoning guests to move first to drinks, then to Chef Alekka's hors d'oeuvres, and then from one smiling conversation to another.
"We wanted an open concept with voluminous spaces. To achieve that, we had to remodel what was here. We removed the walls that separated the kitchen from the rest of the living space. We also removed the existing ceiling and the attic to create the current 14-foot vaulted one. Eventually, we also widened the kitchen by grabbing part of the garage to allow for the large islands that we desired," says Donna. "Our mission was to have living room, dining room, and kitchen flow seamlessly together in a comfortable way."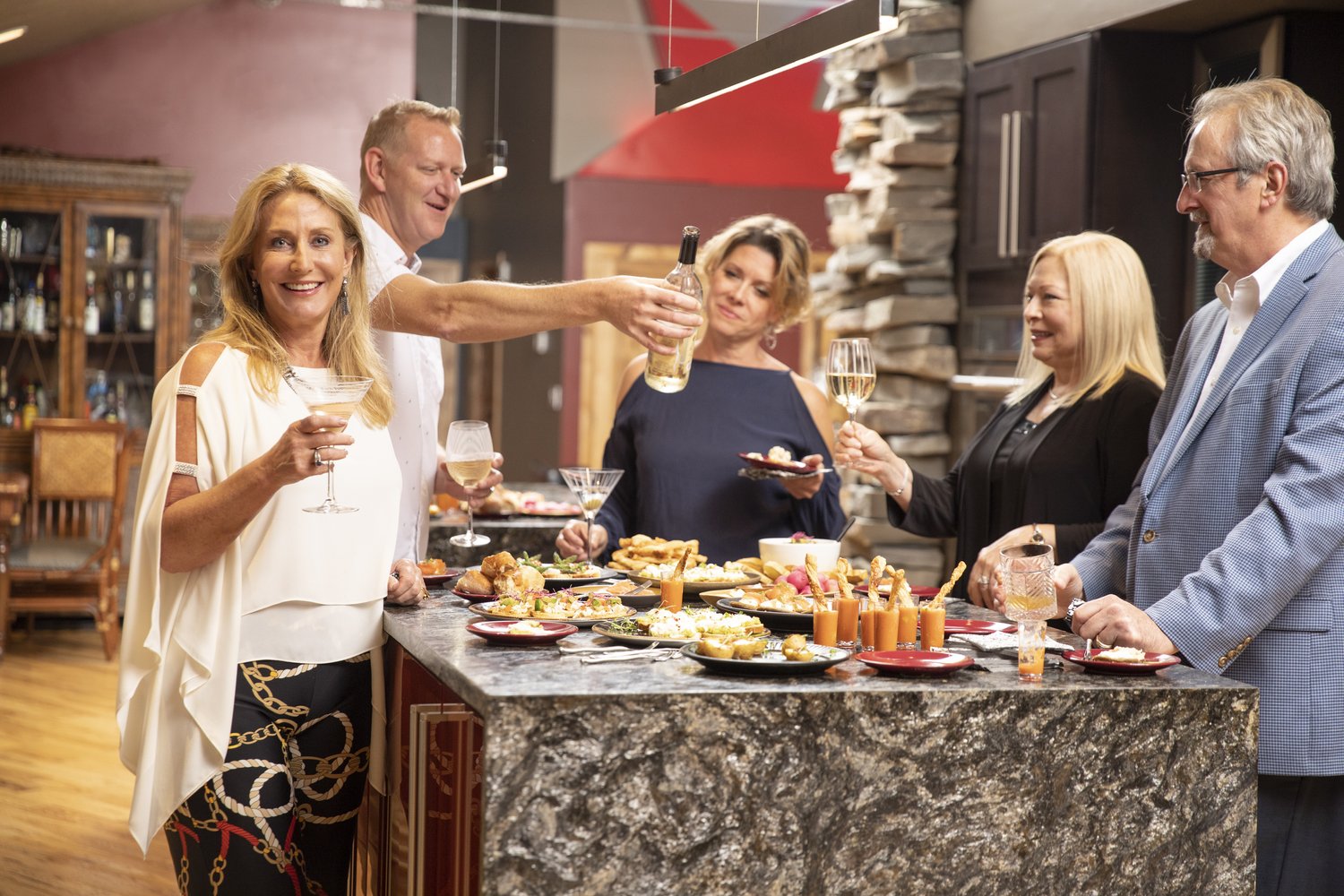 The hostess with the mostest, Donna Tidwell, gathered her near and dear to enjoy her kitchen and to taste the delicious hors d'oeuvres of Chef Alekka.
The twin waterfall islands are surfaced in a unique schist granite with a leather finish. The perimeter countertops were custom-made of solid rolled steel with a lacquer finish, reflecting light onto white glass backsplashes. The appliances are stainless steel JennAir models, including the streamlined 36-inch induction cooktop with a Kohler pot filler.
"We designed and built LED strip lights located over the islands in a way that provides maximum task lighting without shining directly into our eyes," Donna adds, rightly proud of a noticeable detail of this long and complicated project she personally guided and monitored. The almost-invisible fixtures cast pools of light that are not mere task-lighting: they attract guests into the kitchen. Their glow, as well as Chef Alekka's delicious hors d'oeuvres, emphasized the kitchen's role as the center of this party.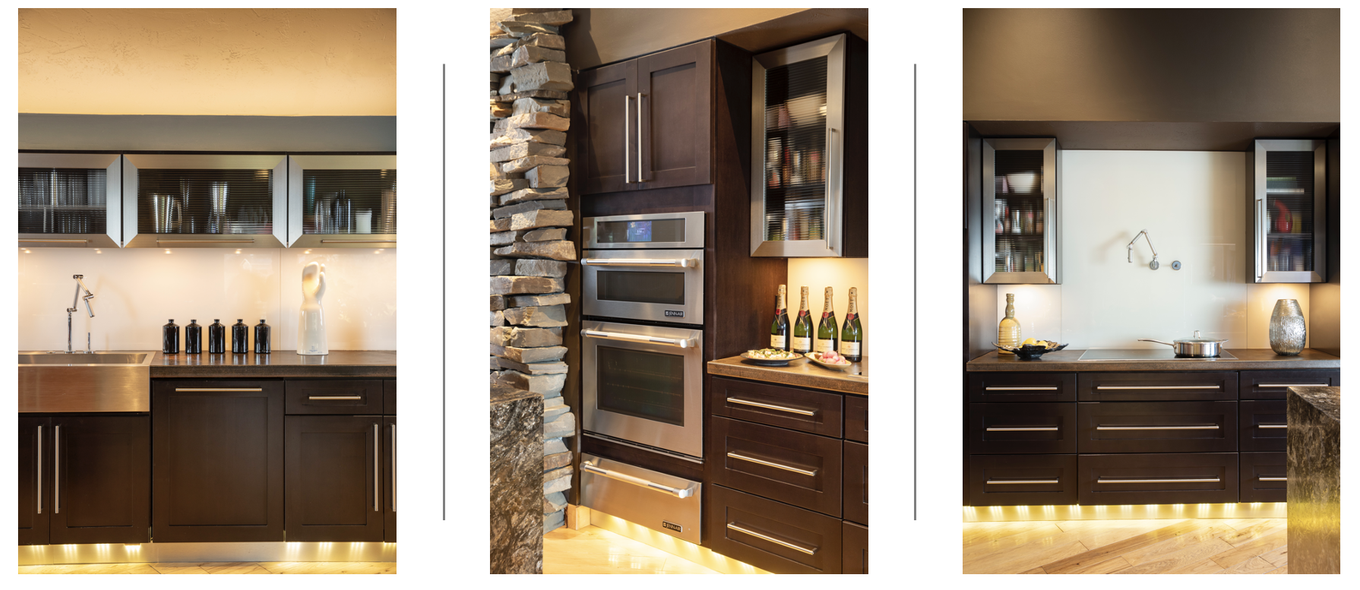 The kitchen's details are modern and simple… because they are the stage upon which many a party is built.
Starting with Gazpacho Shooters and a glass of bubbly, the crew moved on to Smoked Salmon Blini, Crab & Avocado Brioches, two kinds of crostini, tender potatoes topped with creme fraiche and crispy shallots, and fresh radishes served French-style with salt and butter.
Reluctant to leave and drive back to Pittsburgh, we were assured of summertime invitations, which we look forward to.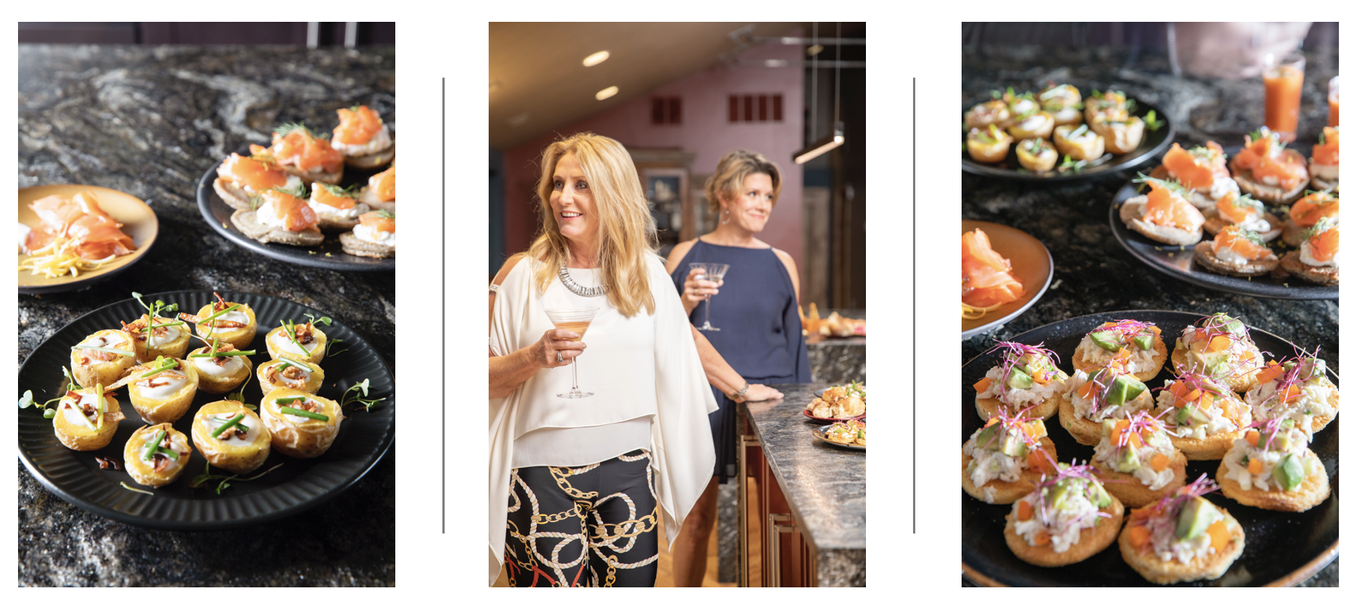 The food and a bit of sparkling wine brought people and place to a new level.
Chef Alekka's Cocktail Party Menu
Gazpacho Shooters with Parmesan & Cayenne Twists
Baby Yukon Gold Potatoes stuffed with Crème Fraîche topped with Crispy Shallots & Chives
Smoked Salmon Blini
Crab & Avocado on Mini Brioche Bites
Crostini with Burrata and Mashed Fava Bean, Lemon Zest & Red Pepper Flake Garnish
Crostini with Crispy Pancetta, Asparagus, Burrata & Lemon Zest
Radishes with Butter, Maldon Sea Salt & Herbed Olive Oil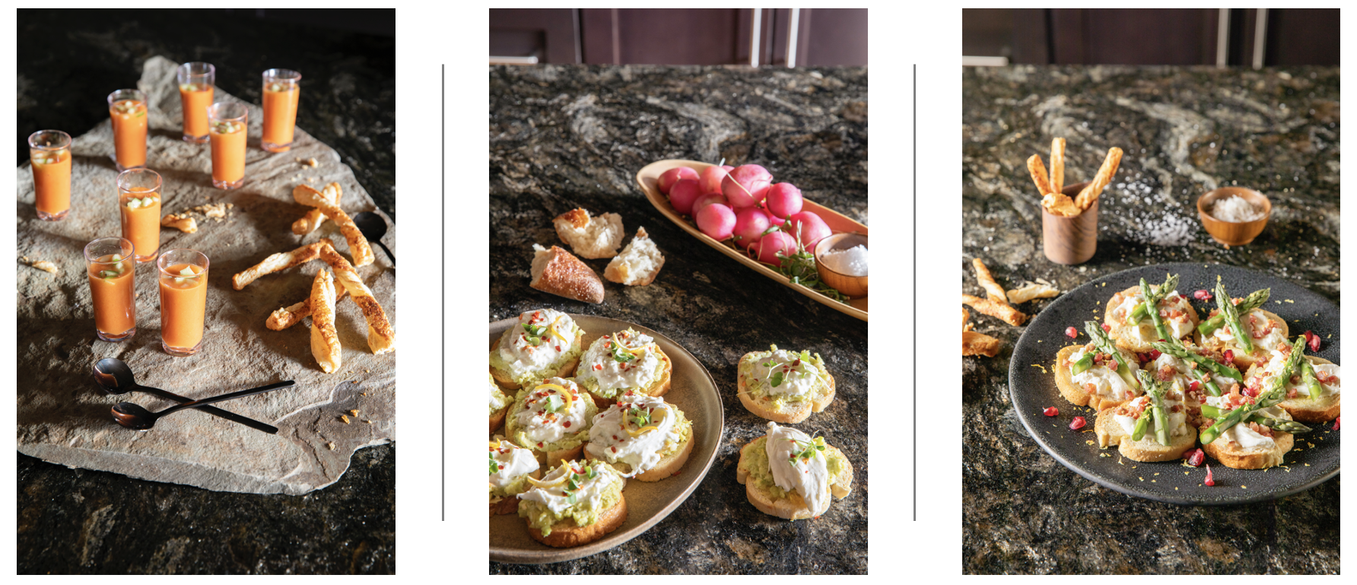 Chef Alekka prepared a gorgeous array of finger foods to complement the sparkling wine, and to delight both eye and palate.
Appliance list by DON'S APPLIANCES
JENN-AIR 36″ PRO STYLE FRENCH DOOR REFRIGERATOR
JENN-AIR 30″ WARMING DRAWER
WHIRLPOOL 30″ FREESTANDING RANGE
JENN-AIR 72″ COUNTER-DEPTH FRENCH DOOR REFRIGERATOR
JENN-AIR 15 "BUILT-IN UNDER-COUNTER ICE MAKER
THERMADOR 24" BUILT-IN DISHWASHER
Story Keith Recker / Photography by Dave Bryce / Food by Chef Alekka / Food Styling Styling Nina Gleason
Don't miss a single delicious thing: Subscribe to TABLE Magazine's print edition.
This article appeared in the Spring 2022 issue of Pittsburgh's Finest Kitchens.