Pittsburgh and Birmingham, Alabama, share a lot of history. Historically, easy access to the ingredients of steel making put them on similar industrial pathways. Today, these sister cities also share a love of food fueled by lively, inventive chefs. It's time to get to know this Southern sibling. TABLE contributor Julia Leonard shows the way.
They call it the Pittsburgh of the South and the Magic City. Founded in 1871, Birmingham, Alabama, was a boom town thanks to iron ore, coal, and limestone, the "magic" ingredients to make steel. Today it's fuelled by business — healthcare, finance, retail — and a lively tourism trade. Visitors come for the history, the culture, and the food, with enough award-winning restaurants to keep you fed and watered, no matter how long you stay.
Where to Eat (and Drink) in Birmingham
Before racing over to the Barber Vintage Motorsports Museum to gaze longingly at their cherry red 1959 Ducati 200SS, you'll need coffee. And a croissant. You'll find both at Bandit Pâtisserie, one of three restaurants run by Kristen Farmer Hall and executive chef/co-owner Victor King. Farmer Hall started baking with her kids back in 2013. They'd drop off baked goods on friends' doorsteps, ring the bell, and run. "My friends dubbed us the baking bandits," she says. The classic Parisian pâtisserie was her model. "I love the simplicity of a Parisian bakery. There's coffee and pastries and nothing else."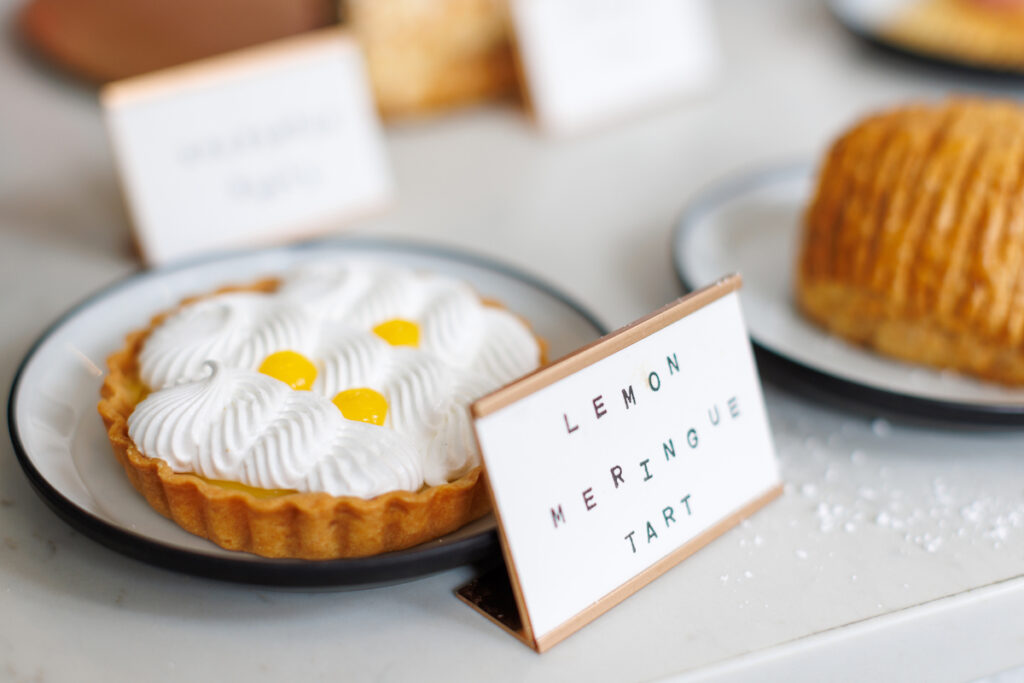 Fête means "party" in French, and that's the idea behind Bar La Fête, Farmer Hall and King's restaurant located next door to Bandit. "It's a more refined French wine bar," she says, with a predominantly French wine list. The idea is simple: "A French restaurant where you can come and get snacks and wine or stay and have a filet au poivre and a bottle of Burgundy and celebrate your life there."
Just a short stroll away is their third restaurant, The Essential. It's an all-day café stocked with the foods you wish you'd eaten growing up, cooked with deftly adult sensibilities. Pastas are made in-house, and portions are generous. Their Portuguese-inspired Chicken Peri-Peri, for example, includes half a chicken with guajillo marinade, peanut-lime gremolata, and enough fries to satisfy the keenest carb-loader. Expect an hour or two wait for brunch on the weekends, but it's worth it once you take your first sip of their signature Honeycreeper cocktail: a blend of Smith & Cross rum, turmeric, pear, honey, and lemon.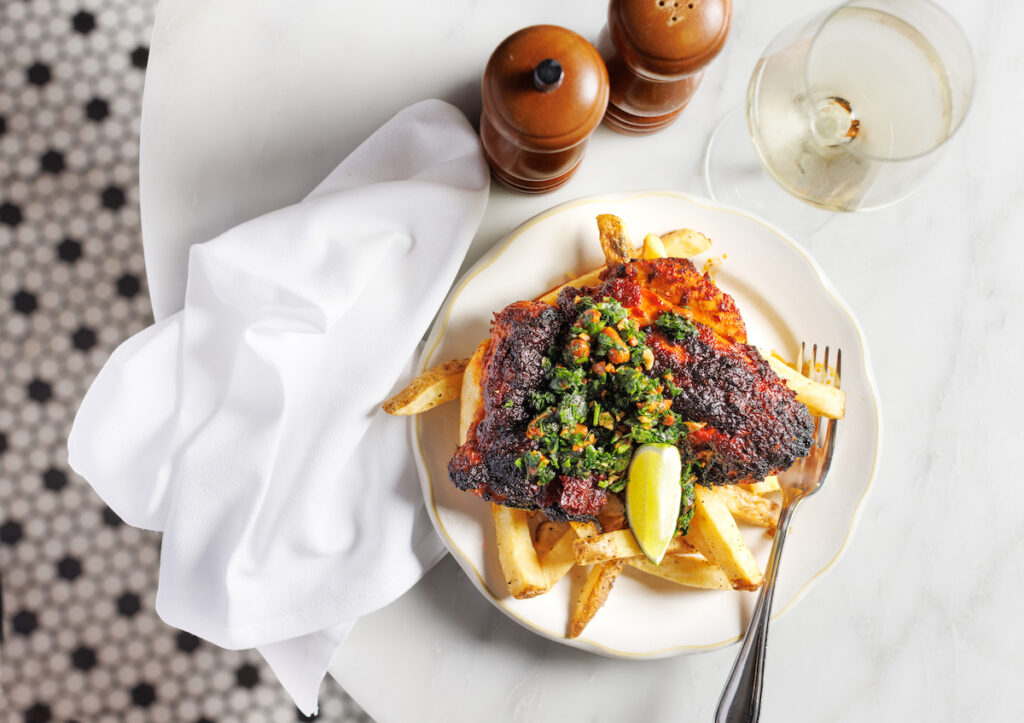 We have Rob McDaniel's granny to thank for Helen, a Southern grill located in a two-story, 1920s-era shotgun-style building in downtown Birmingham. She cooked over hardwood coals on an indoor grill, and so does he, at the restaurant he owns and runs with his wife Emily. The embers bring to life winning dishes like Roasted Asparagus, Spring Onion, and Sauce Gribiche. "We blanch asparagus and then put it in a fire basket over the coals, which then goes on top of the aioli, with onions on top, and then we pipe out the egg–both yolk and foam–and garnish with dill and fried capers," Rob says. Wipe the plate clean with their warm Angel Biscuits, served with whipped cane syrup butter and sea salt. You'll think you've died and gone to heaven.
Before you ask, there is no Grace at Pizza Grace; however, there is a lot of meaning behind the name, says Helene Jones, who handles front of house while her husband Ryan Westover is home in the kitchen. Grace, she says, is "…something that is simple, elegant, and refined in movement… a simple prayer of thanks for the simplicity of things." And simplicity is the idea: pizzas that are cooked in a blistering-hot oven with ingredients that, when possible, are locally sourced. The dough–always the deal-maker or breaker with pizza–uses a sourdough starter passed down to Ryan from his mentors. Did I mention Pizza Grace is a 2023 James Beard Award semi-finalist for Best New Restaurant?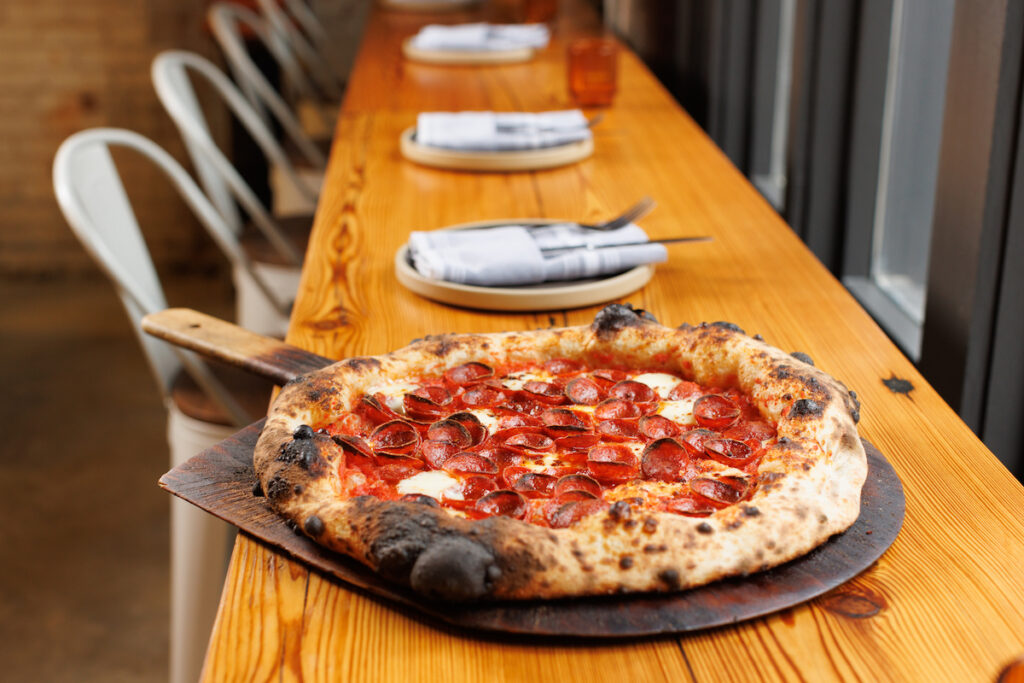 Take a break and sit and sip at Harvest Roots Taproom where husband and wife team Lindsay Whiteaker and Peter Halupka serve up their own brewed kombucha with a focus on seasonal flavors and locally grown ingredients. Favorites? The imminently quaffable Meadow is a blend of lavender, yuzu citrus, and butterfly blossom while Sunshine is their take on a classic ginger kombucha made with ginger, lemon, and lime zest. There are 15 different kombuchas on tap, so hang out in the peaceful white-walled taproom, or grab a 32-ounce growler from their on-site bottle shop.
There are liquor stores — and then there's LeNell's Beverage Boutique, the inspired creation of the singular LeNell Camacho Santa Ana. Not only has she assembled an impressive array of spirits, bitters, and other boozy concoctions, it's all housed in a space that is as quirky and free-spirited as she is, including a bathtub full of gin. Drop by this Norwood-neighborhood shop to pick up gifts for folks back home, like fig and pecan liqueur by John Emerald Distilling, gin by Wonderbird Spirits, and small-batch bourbon by Irons ONE. Actually, scratch that. They can make their own pilgrimage to LeNell's. Bring back those bottles for yourself.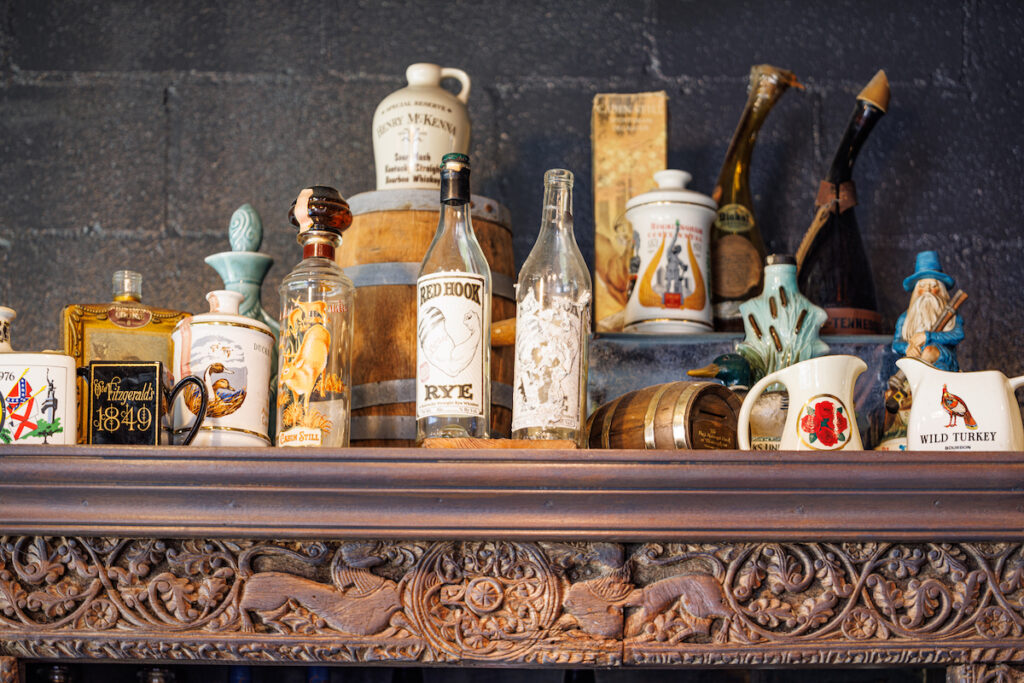 You could say that cooking is in Chef Timothy Hontzas's DNA. He opened Johnny's Restaurant in Homewood (a Birmingham suburb) with its classic comfort food menu of meat-and-three-veg in tribute to his grandfather, father, and Uncle Gus. Now he's garnered his second-in-a-row Best Chef-South finalist spot from the James Beard Awards. Alongside dishes such as the meltingly tender 15-Hour Pot Roast, Parmesan Grit Cake, Turnip Greens and Sweet Potato Purée with Cinnamon Maple Butter, you'll find Greek classics like spanakopita and souvlaki, and specials like Cornmeal-Fried Alabama Gulf Shrimp with Smoked Chile de árbol. The sign on the menu board says it all: "We prepare food for the body, but Good Food to feed the soul." Amen to that.
No visit to Birmingham is complete without barbecue. SAW's (also in Homewood) serves up some of the best Carolina-style pulled pork sandwiches, barbecue chicken with their signature white sauce, and of course, ribs. And the name? The original owner was Mike Wilson who named the restaurant after the nickname he was given growing up: Sorry Ass Wilson. Also worth a visit is SAW's Soul Kitchen in Avondale.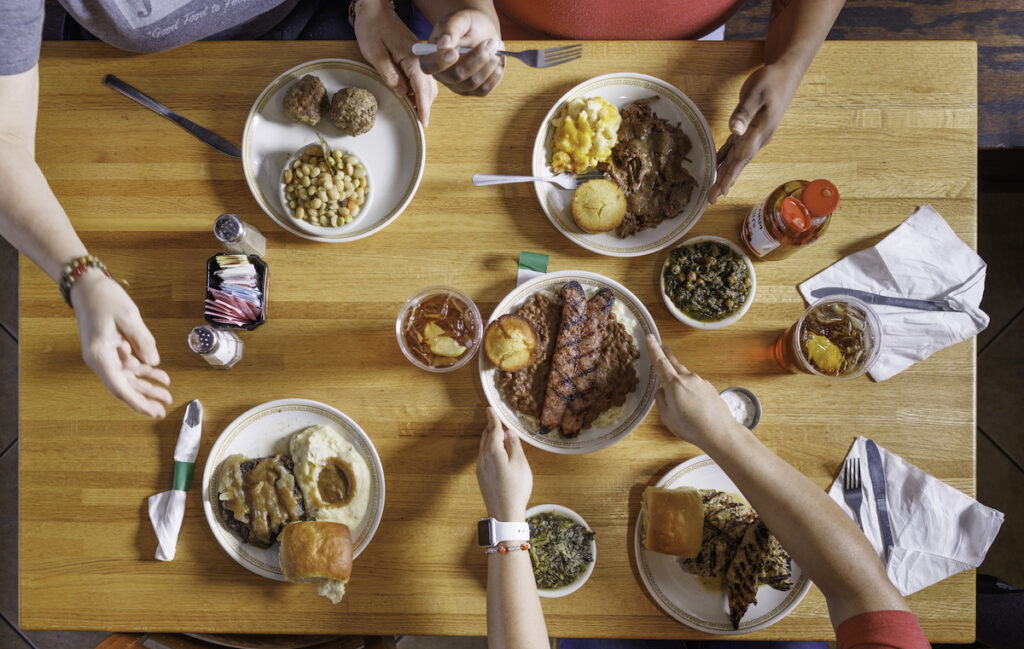 And to understand just how thriving Birmingham's food scene is, plan a visit to The Market at Pepper Place (open Saturdays). This farmers' market launched in 2000 and helped change the way locals and budding chefs think about food says Executive Director Leigh Sloss-Corra. "It seeded a growing awareness and interest in locally grown, locally produced food," she says. "There's a whole generation of food creators and producers in Birmingham now who grew up in the culture."
While you're soaking up the atmosphere, nab jars of chow chow, bread and butter pickles, and pickled okra to stash in your suitcase and take home. Or a jar of Wallace Homestead's jalapeño pepper-infused honey or Southern Brothers pork skins. You'll walk away loaded with welcome reminders of your visit and a better taste for Birmingham. "Birmingham is not flat, in any way," says Sloss-Corra, "and never will be. It's distinctive, and hard at times, but also sparkling. So it is with the food. And the people."
Seeing Birmingham
Like Pittsburgh, Birmingham was born out of iron and steel. Unlike Pittsburgh, it's relatively young, founded in 1871 at the crossing of two railroad lines. The city blossomed through the early 1900s, growing so rapidly that people said it was "just like magic," earning the new town the name "The Magic City." That magic continues in Birmingham's food scene, as well as in the arts, nightlife, outdoor recreation, and important sites to see.
Barber Vintage Motorsports Museum features the world's largest collection of vintage motorcycles, racecars, and Lotus cars.
Vulcan Park and Museum provides stunning panoramic views of the city and the famous Vulcan statue, the world's largest cast-iron statue, standing at 56-feet tall and originally developed for the 1904 World's Fair.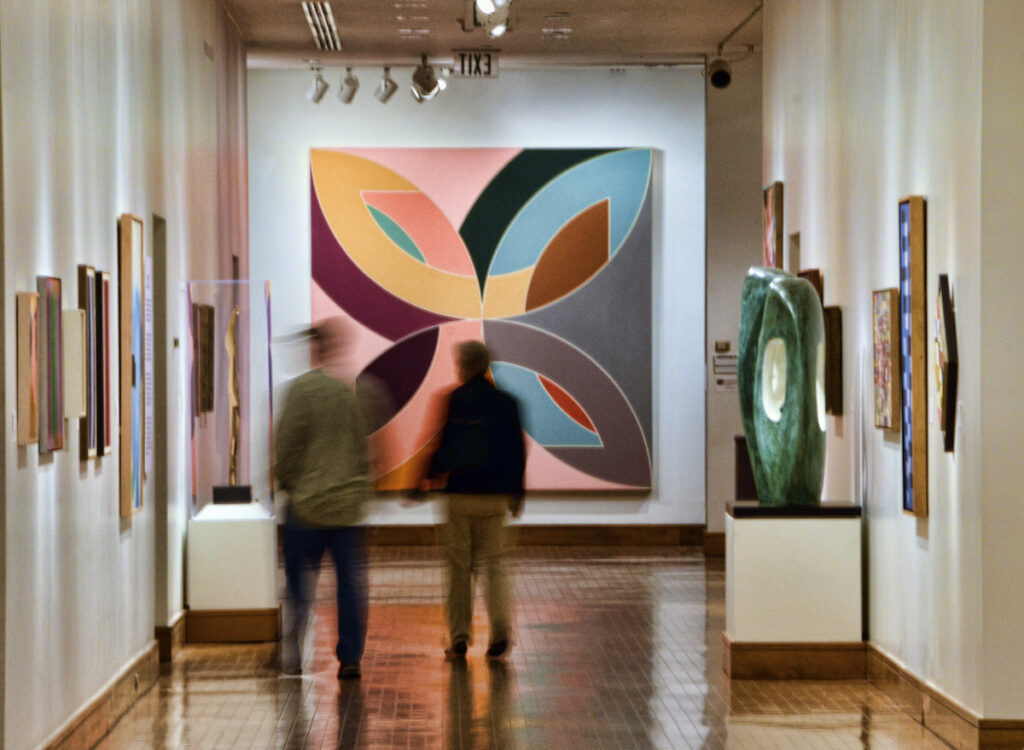 Birmingham Museum of Art boasts one of the finest collections in the Southeast, featuring more than 24,000 objects representing a rich panorama of cultures, including Asian, European, American, African, Pre-Columbian, and Native American. Highlights include the museum's collection of Asian art, considered the most comprehensive in the Southeast; its collection of Vietnamese ceramics, one of the finest in the world; and the world-renowned collection of Wedgwood, the largest outside of England.
Sloss Furnaces, now a National Historic Landmark, was one of the first industrial sites in the US to be preserved and restored for public use. It currently hosts a nationally recognized metal arts program, serves as an interpretive museum of industry, and hosts concerts and festivals throughout the year.
Birmingham Botanical Gardens, home to more than 12,000 types of plants, 25 unique gardens, original outdoor sculptures and walking paths, the campus provides a stunning outdoor experience.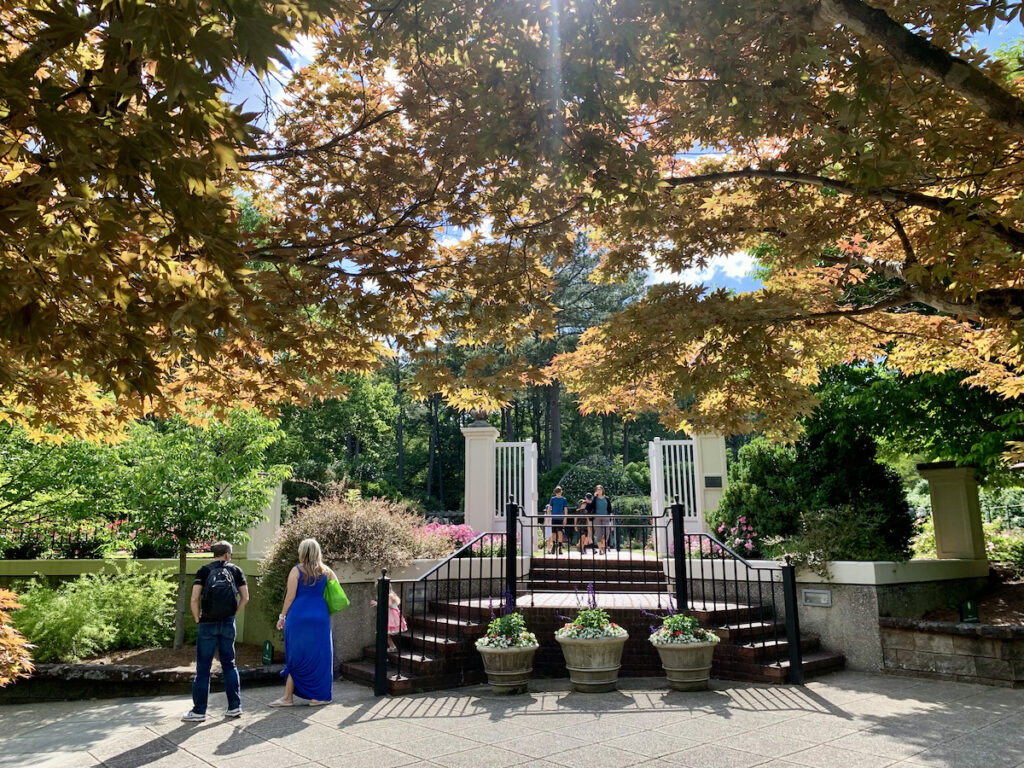 Birmingham Zoo's 122-acre site features hundreds of animals from six continents. Their new Trails of Africa exhibit describes their position as a leader in elephant conservation. Visitors will be inspired to go deeper into global wildlife conservation.
Birmingham Civil Rights District, a National Monument, tells significant stories of the city's role in desegregating the American South. Visitors can experience this tragic but important history at the District's key landmarks: the Birmingham Civil Rights Institute, 16th Street Baptist Church, Kelly Ingram Park, A.G. Gaston Motel, the Historic Bethel Baptist Church, and the Fourth Avenue Business District.
Special thanks to photographer Art Meripol and Leigh Sloss-Corra, our esteemed guides for our visit to Birmingham.
Story by Julia Platt Leonard / Principle photography by Art Meripol
Subscribe to TABLE Magazine's print edition.