When interior designer April Spagnolo creates her own kitchen, where does she start?
Set in Stone
The starting point for this stunning redesign? The countertops. "Whenever I start a kitchen, I always go with the stone selection first," says April Spagnolo, certified kitchen and bath designer and president of Evalia Design. "After you choose that, everything [else] falls into place."
Spagnolo specified a beautiful, natural quartzite island counter, which grounded the space with a creamy base accented with greens and blues. From there, she began pulling in materials and finishes for the rest of the room. She believes "this is the best approach. It's easy to change paint and cabinet colors, but once you fall in love with that stone, it's kind of hard to change that. It's the space's unique art piece."
The inspiration for this kitchen redesign started with the countertops. Everything else feel into place around them.
This is Spagnolo's personal kitchen, and many of its components were once at home in the designer's showroom. Spagnolo found she was visiting clients more than using the space, so she closed the display and repurposed the maple and cherry cabinets and hardware for real life use. The cabinet handles are a mix of metals: polished chrome, bronze, brass with mother of pearl inlay, copper with leather detailing.
An Unplanned Kitchen Redesign
"When my husband and I bought this house in 2016, we thought, 'Oh, we don't really need to update anything.' [But] we're both in the kitchen and bath industry, so we've pretty much gutted the entire house at this point," she laughs. "We've made it our own, put our own aesthetic in it."
The perimeter countertops are made from Lapitec, a sintered stone that's equal parts durable and beautiful. It's nonporous, scratch-resistant, and easy to clean.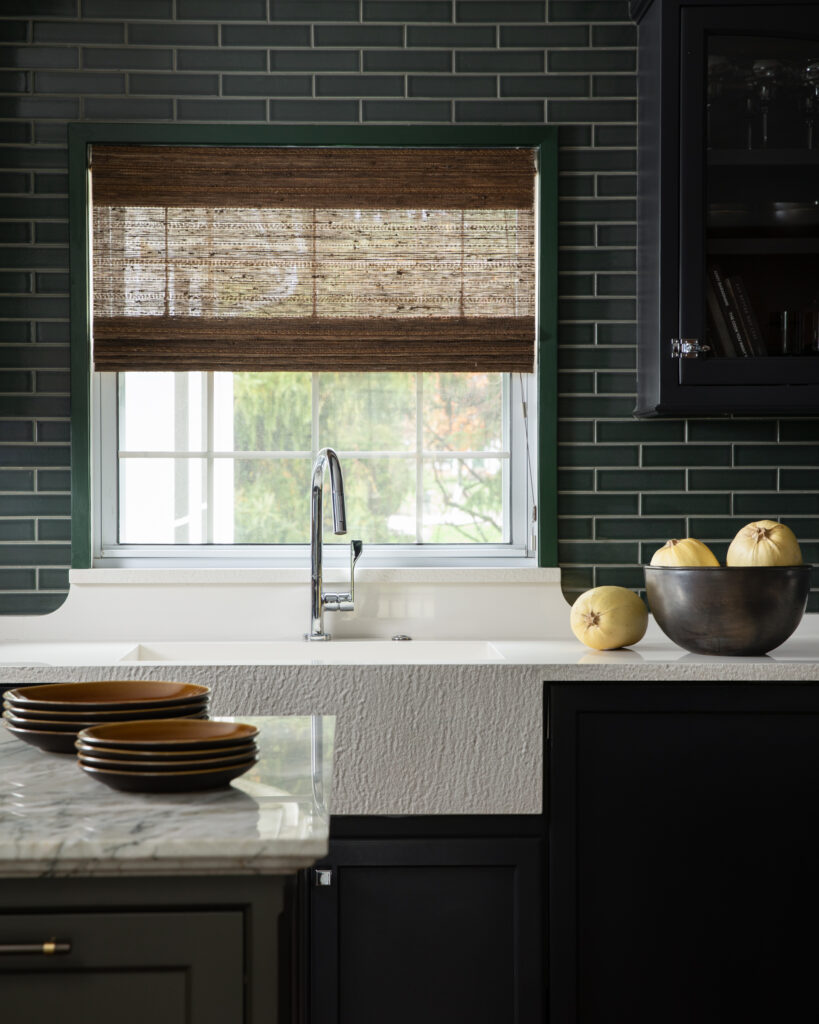 The custom stone sink by Ultimate Granite features a unique, textured front apron and a Hansgrohe Axor faucet. "It's a complex design in that everything is mitered," says Spagnolo.
The metal hood is also custom and features zinc and copper detailing with a Best fan insert. The brass-accented range, from the JennAir Rise collection, complements the design perfectly. The appliances, including the refrigerator (which is hardware-free and simply opens when you knock on the door!), coffee machine, steam oven and dishwasher, are by Miele from Don's Appliances.
The lagoon-colored backsplash is one of Spagnolo's favorite details—handmade by Fireclay Tile with recycled clay. The 2-inch by 8-inch tiles adorn one wall to create a stunning focal point.
A Melody of Textures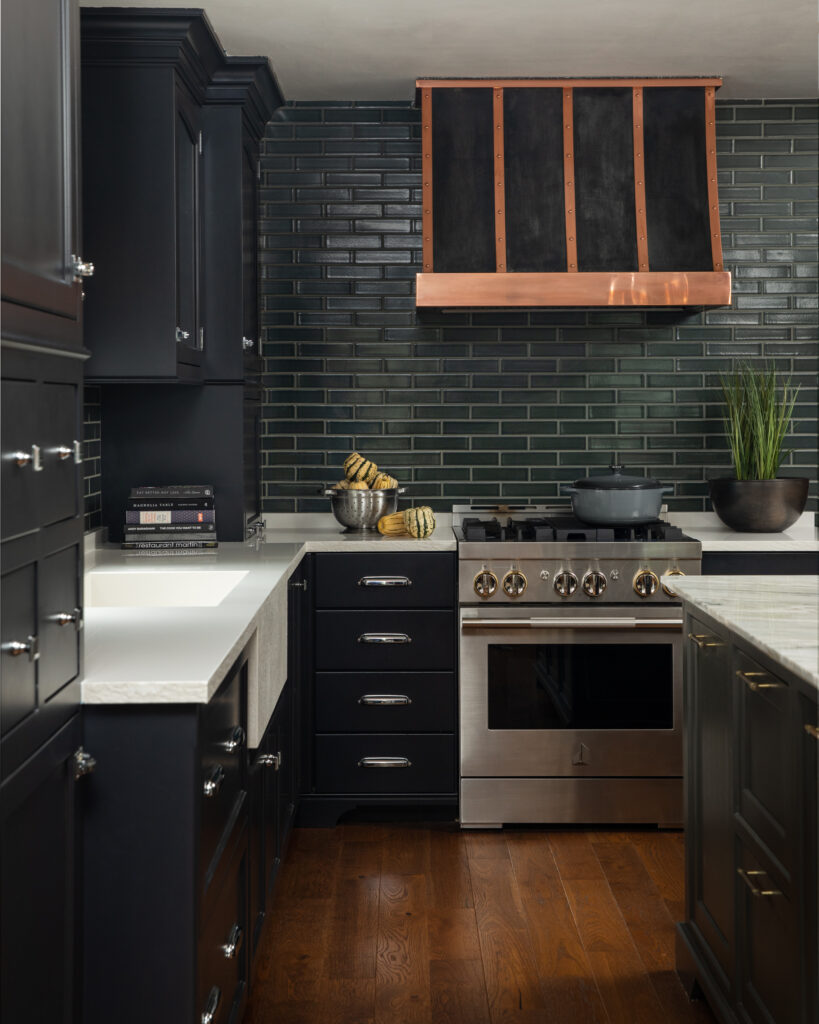 Wood, metal, and stone finishes blend harmoniously.
Pendant light fixtures from Shades of Light complete the island. Blinds from The Shade Store deliver an earthy accent to the room.
Though the footprint is small, Spagnolo prioritized function and maximized the space for storage, flow, and practicality. For example, peg-bottom drawer inserts are an easy hack any homeowner can try to add hidden organization and keep dishes and cookware from shifting around.
Peg-bottom drawers keep dishware in place
A final standout detail is the door to the garage—you'd never know that's where it leads thanks to the addition of framing and magnetic chalkboard paint. Now, "it's a personalized space instead of just a metal door at the end of the hallway."
Considering a redesign of your own? Spagnolo recommends prioritizing function and getting clear on what you really like before making any decisions. "If you stay true to yourself and the aesthetic of your home, you never have to run into feeling too trendy."
Appliances sourced from Don's Appliances:
JennAir Rise 30" Gas Professional Range
Miele Knock 2 Open Dishwasher
Miele 30" Refrigerator
Miele CVA Coffee Maker
Miele DGC Steam Oven
Story by Nicole Barley / Styling by Keith Recker / Photography by Dave Bryce
Subscribe to TABLE Magazine's print edition.