Coffee, chocolate, nuts, and did we mention a splash of Baileys? The Coffee Costa Crunch has everything you want for the perfect holiday dessert. Dazzle your guests and hope there is a slice leftover to enjoy in peace once the guests are gone.
Coffee Costa Crunch Recipe
Makes 24-26 1"x 4" slices
INGREDIENTS*
Crousillant aux fruits
Baileys cremeux
Chocolate roulade
Coffee mascarpone mousse
Ganache
Chocolate sauce
Pan with a pan extender (18"x 13" ½ sheet tray pan )
Chocolate rings
Torn chocolate sponge
Edible flowers
*Recipes found below
INSTRUCTIONS
Line a pan with a silpat and pan extender. Lay a very thin crust in the base out of the crousillant aux fruits.
Top the base with a thin layer of the Bailys cremeux, then a layer of chocolate roulade.
Last, add the coffee mascarpone mousse up to the ¾ mark of the pan extender. Freeze.
On the day of serving, glaze the top with gold mirror glaze
Cut the cake into a desired shape and size such as the 1 x 5" bar in the photo. Place each serving on a plate, finish with chocolate ganache chocolate sauce.
Decorate with your choice of garnishes.
Note: If you don't have an extender, you can build this dessert without it — simply trim the sides to have a smooth and evenly finished dessert.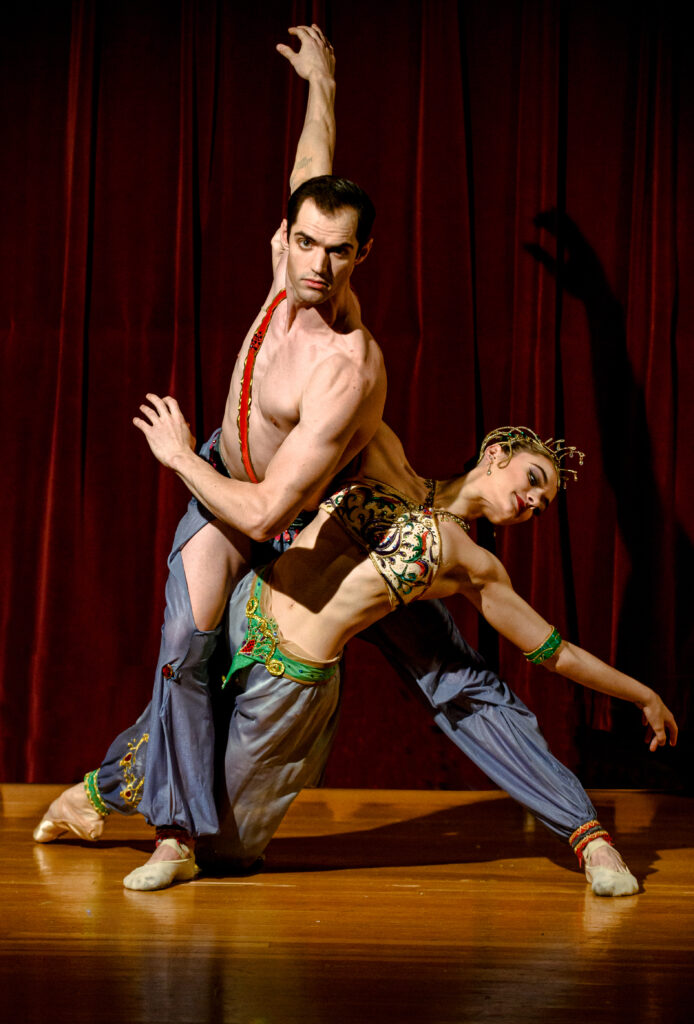 The impressively entwined movements of dancers Jack Hawn and Grace Rookstool conveyed elegance and strength during our photo session with them. Nemacolin's pastry chefs took inspiration from this moment to create their Coffee Costa Crunch.
Croustillant Aux Fruits (Crust) Recipe
Makes 3 quarts
INGREDIENTS
.6 oz pistachios, toasted
3.4 oz almonds, toasted
3.4 oz hazelnuts, toasted
3.7 feuilletine flakes
10 oz praline paste
2.5 oz unsalted butter
1.2 oz milk chocolate
INSTRUCTIONS
Preheat oven to 325 degrees.
Chop the nuts finely and mix with the flakes.
Melt the praline paste, butter, and milk chocolate together in a bowl and stir in the nut mixture.
Quickly spread evenly onto one or two baking pans lined with silpat.
Bake in the preheated oven for 5-8 minutes until golden. Cool and store in an airtight container until ready to use.
Note: Feuilletine flakes are a confection that is made from thin, sweet crepes that are cooled so they become crispy, then broken up. You can substitute cookie crumbs or cornflakes.
Baileys Cremeux Recipe
Makes 1 ½ quarts
INGREDIENTS
10 oz Baileys
8.4 oz heavy cream
4.2 oz egg yolks
11 oz milk chocolate
INSTRUCTIONS
Bring the Baileys and heavy cream to a simmer, temper in the yolks and heat to form an anglaise.
Strain the anglaise over the milk chocolate and blend well.
Chocolate Roulade Recipe
Makes 2-24×19" sheet pans
INGREDIENTS
31 oz egg whites
36 oz egg yolks
24 oz granulated sugar
12 oz cake flour, sifted
3.5 oz cocoa powder, sifted
INSTRUCTIONS
Preheat oven to 400 degrees
In a bowl, whip the egg whites with 1/3 of the sugar to a medium peak.
In a second bowl, whip the yolks with the remaining sugar until you reach the ribbon stage.
Fold in the sifted flour and cocoa into the yolks.
Fold in the whipped egg white mixture.
Divide the mixture between two lined and sprayed 24 x 19" sheet pans.
Bake for 5-7 minutes, remove from the oven and allow to cool in the pans.
Coffee Mascarpone Mousse Recipe
Makes 4 quarts
INGREDIENTS
8.3 oz granulated sugar
2.7 oz water #1
3.7 oz egg yolks
.4 oz gelatin powder
2.2 oz water #2
.3 oz coffee powder
.9 oz coffee extract
13 oz heavy cream
3.7 oz mascarpone
INSTRUCTIONS
Cook the sugar and water #1 in a saucepan until it reaches 248 degrees.

Whip the yolks, slowly add the sugar mixture, whipping to the ribbon stage where it's very thick and yellow.

Mix the water #2 with the gelatin in a bowl, let bloom then melt it (short ten second bursts in the microwave) and add the coffees.

Whip the cream to soft peaks.

Add the gelatin mixture to the egg mixture. Fold in the mascarpone and softly whipped cream.
Ganache Recipe
Makes 4 quarts
INGREDIENTS
48 oz heavy cream
12 oz unsalted butter
48 oz chocolate chips
INSTRUCTIONS
Bring the cream and butter to a boil in a saucepan.
Place the chocolate in a heatproof boil and pour the cream and butter mixture over it.
Let sit for a few minutes and then blend with a stick blender.
Chocolate Sauce Recipe
Makes 2 quarts
INGREDIENTS
3 cups water
24 oz granulated sugar
16 oz dark chocolate
12 oz cocoa powder, sifted
12 oz glucose
INSTRUCTIONS
Combine all of the ingredients in a saucepan, bring to a simmer, whisking often.
Strain and store in a container with plastic wrap placed directly on the surface of the sauce.
Gold Mirror Glaze Recipe
INGREDIENTS
1 ½ oz gelatine powder
8 ½ oz water #1
14 oz condensed milk
21 oz white chocolate, couverture
10 ½ oz water #2
21 oz granulated sugar
21 oz glucose
Golden yellow coloring gel, to taste
INSTRUCTIONS
Place the gelatine in water and allow to bloom. Put the bloomed gelatine in a separate bowl with the condensed milk and the chocolate.
In a saucepan, cook water #2, sugar, and glucose until the mixture reaches 220 degrees, then pour over the gelatine, condensed milk and chocolate mixture. Add the coloring gel. Mix well and store in the refrigerator overnight.
The next day, when ready to use, heat to 105 degrees and use at 85-95 degrees.
Recipes by Nemacolin Executive Pastry Sous Chef Isaac Ortiz Montalvo and Pastry Sous Chef Mary Mae Co Laskody / Story by Keith Recker / Portrait Photography by Jeff Swensen / Food Photography by Scott Goldsmith


Subscribe to TABLE Magazine's print edition.