What began as a galley kitchen with a breakfast nook is now a spectacular cooking and dining space, brought to life by Ida McConnell, certified kitchen designer and owner of Cuvée Kitchen Designs, Inc.
The luminous redesign is rooted in McConnell's philosophy of "creat[ing] a welcoming, enticing, pleasing, and functional environment. A space that creates a positive visceral reaction, one in which you want to linger and a place to enjoy while performing the tasks at hand. Where form not only follows function, they are one and the same."
An inviting island seats five and is equipped with refrigeration drawers, keeping fruit and vegetables close at hand, making prep a breeze.
The room's focal point is the incredible stove hood, custom-detailed by a local metalsmith and flanked by arched windows. The view to the backyard invites the outdoors in, and the rounded shapes create continuity with arched architectural details on the home's front porch. Phillip Wentzel Custom Homes was the contractor for the project.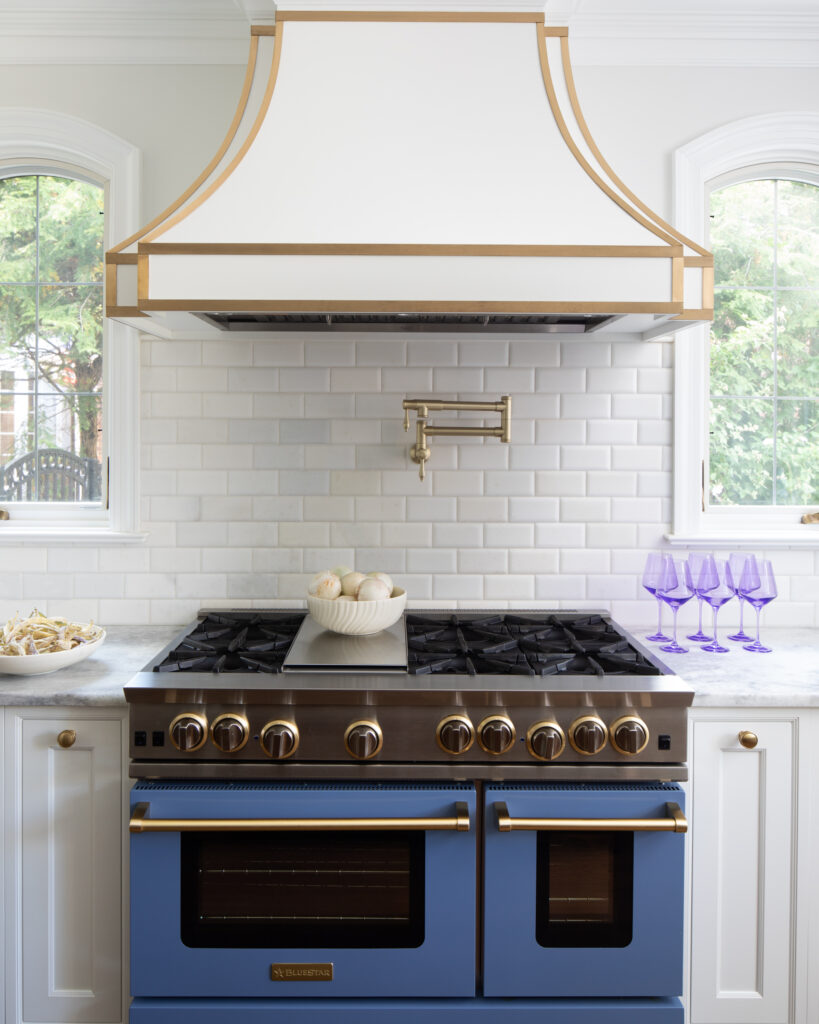 Another showstopper? The beverage center, featuring a glass-front, built-in True refrigerator, custom painted and detailed to blend into the cabinetry. Its open facade beckons guests to gather and select a tasty, chilled drink. A HydroTap by ZipWater dispenses filtered water, carbonated water, and hot water for easy drink making. The pop of striped wallpaper draws attention without disrupting the flow.
The kitchen also features a custom coffee bar with a built-in pot filler. The barista station lives inside a tall cabinet with retractable doors that neatly hide the area when it is not in use.
Rutt HandCrafted Custom Cabinetry, supplied by Cuvée Kitchen Designs, creates seamless transitions between the appliances and storage. For example, the refrigerator and freezer are paneled to appear "more like an armoire piece," says McConnell. Glass-front cabinets throughout are ideal for displaying beautiful dishes.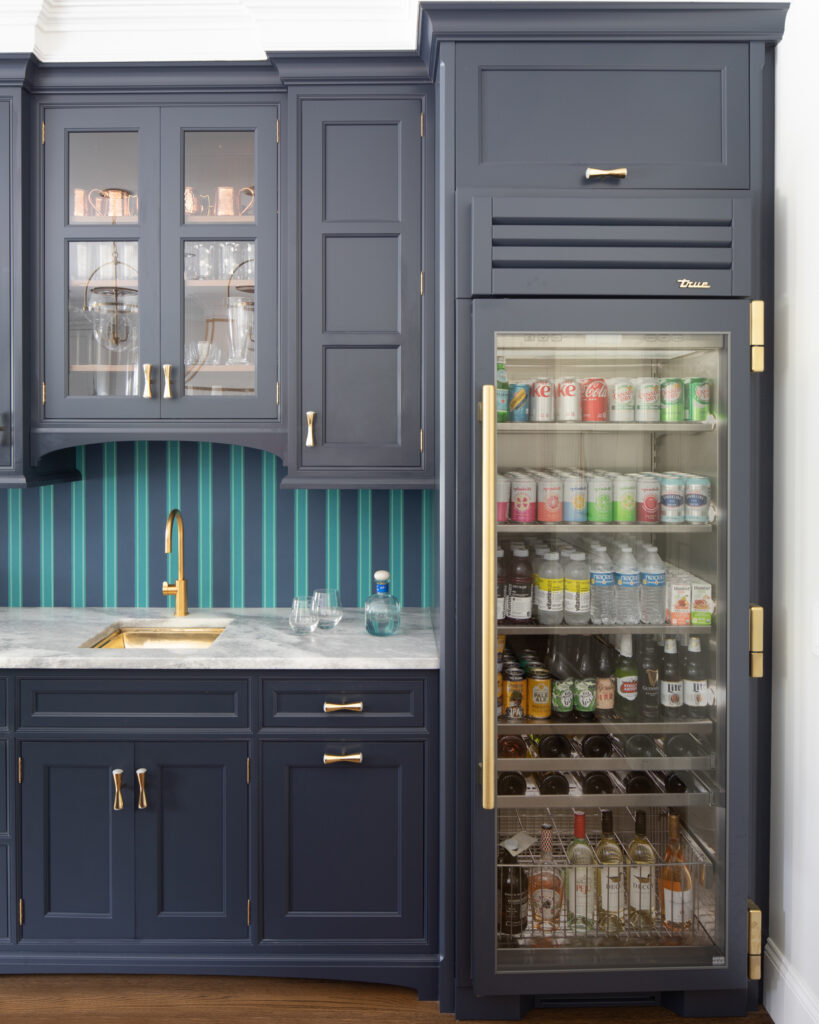 To craft a refreshing color palette, McConnell combined Benjamin Moore Decorator's White and Hale Navy paints, Oxford Brown-stained walnut wood cabinetry finishes, and Primo Marble & Granite Quartzite and honed-white Tropicalia countertops.
By expanding the kitchen's footprint, McConnell was able to add a hidden, walk-in pantry, expertly concealed with French doors that complement the cabinets. A step inside reveals an extensive preparation area outfitted with an ice maker, plenty of counter space, shelving, a second dishwasher, and an abundance of storage. Additionally, McConnell designed a new, functional, walk-through butler's pantry that is in harmony with the home's age and details.
Extensive space planning and organizational elements rounded out the project, including dividers for utensils, a knife drawer, and an array of hidden organizational features. Prior to move-in, "We walked through every drawer, every cabinet so [that] everything just flowed beautifully," she says.
What better way to celebrate the finished product than a dinner party? Kimberley Haugh of Kimberley Ashlee Catering created a sumptuous dinner menu, complete with wine pairings selected by her husband, Josh Haugh. The multicourse menu was served on traditional dinnerware in colors that perfectly complement McConnell's design. Cheers!
Shrimp Toast with Chili Aioli
Butter Tarragon-Roasted Monkfish with Carrot Purée, Finished with Watercress
Sautéed Italian Greens & Radicchio with Pecorino
Individual Truffled Chicken Pot Pies
Apple Custard with Spiced Apples & Pecans
"A good party menu is one which allows the host to relax and actually enjoy themselves. It should have "Wow!" and "Oh! And ah!" elements, but it shouldn't be complicated." —Kimberley Ashlee
The Wine Pairings
Waterbrook Sauvignon Blanc 2020
Beautiful and crisp with notes of honeydew and apricot
Schug Pinot Noir 2020
Light and bright with notes of red cherries, raspberries, and spice
"The Schug Pinot Noir (Sonoma Coast, CA) pairs nicely with the Chicken Pot Pie and even with the monkfish as well. This light-bodied red exhibits great fruit-forward flavors of cherries, strawberries, and spice making it enjoyable with the two dishes without overpowering them."
BlueStar 48" RNB Series Range with 12" Griddle
Best Built-In Hood PK22 Series
BlueStar 30" Electric Wall Oven with French Doors
True 30" Beverage Column with Stainless Glass Door
Cove Dishwasher DW2450
Sharp Microwave Drawer
U-Line 15" Nugget Ice Machine
XO Beverage Center Refrigerator
Fisher & Paykel Integrated Double DishDrawer Dishwasher
Sub-Zero 30" Designer Over-and-Under Refrigerator and Freezer with Ice Maker
Story by Nicole Barley / Photography by Dave Bryce
Subscribe to TABLE Magazine's print edition.