The Marzipan Almond Tart is a feast for the eyes in a season made for feasting! This is not one to be rushed as you'll need several days to make the ice cream and then an overnight stay in the freezer for the composed tarts before you do the final flourishes. But it's worth it for a dessert that will have your guest applauding your patisserie skills! 
Marzipan Almond Tart Recipe
Serves 8-10
INGREDIENTS*
White sable tarts
White roulade
Frangipane cream
Colored sable tarts
Vanilla dusted sliced apples
Cranberry anglaise
Anglaise
Cran-vanilla ice cream
Marzipan apples
*Recipes found below
INSTRUCTIONS
Day before serving: 
Line a 5 ½ x 1" long, oval tart shell with a strip of the warm white sable.

Cut the roulade into an oval ring and place it on top of the sable shell.

Pipe the Cranberry frangipane cream almost to the top of the shell. Freeze overnight.
The day of serving:
Unmold the rings, then place a colored sable piece on top. 

Using a 1A round tip, pipe the cranberry frangipane cream on top. Gently place the dehydrated apples as garnish. 

To plate, place the each cake on an individual plate, finished with cranberry anglaise, anglaise, a cylinder of ice cream and finish with marzipan apples.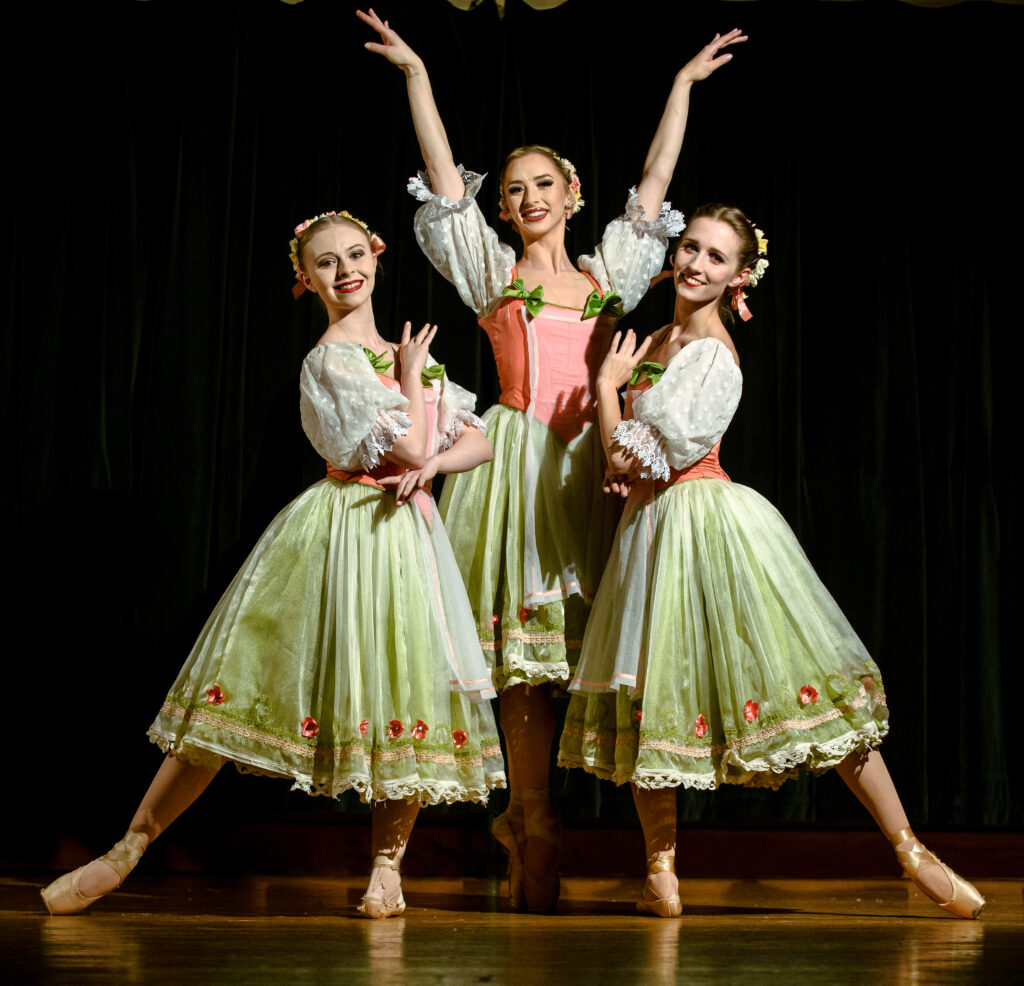 Moving in Harmony: A lovely trio of artists moves in lithe harmony in this moment of Pittsburgh Ballet Theatre's production of The Nutcracker, accompanied by Tchaikovsky's "Dance of the Reed Flutes," one of the most recognizable and beloved melodies of ballet music. The élan of this delicate tune is captured nicely by the Nemacolin pastry chef team in a wonderful Marzipan Almond Tart, garnished with cranberry mascarpone cream, dehydrated apple slices, and tiny marzipan apples. Wunderbar!
Vanilla Sable Recipe
Makes 10 Aligned 5 ½" x 1" Natural Colour sable in an oval long tart Shell & 12  5"x ¾ " Red Sable Rectangles
INGREDIENTS
28 oz cold, unsalted butter, diced
42 oz all-purpose flour
18 oz powdered sugar
9 oz egg yolks
Red food gel, to taste
INSTRUCTIONS
Combine the butter, flour and sugar until pea-sized consistency then add the egg yolks. Mix together until just combined.

Divide in half, keeping one half natural no color and dying the other half red. 

Roll out to a ¼" thickness and cut into 5" x ¾" rectangles, place on a sheet-pan and refrigerate until ready to bake.

Bake for 4 minutes at 350 degrees, rotate, and bake for another four minutes. 
Note: Make this right before you're ready to assemble the finished dessert so the sable is still warm and can more easily be fitted into the moulds. Or you can make them the day before, wrap them well, and store at room temperature. You can make the sable dough ahead of time and freeze it for up to 6 months, wrapped tightly. When you're ready to use the dough, just thaw the day before baking them.
White Roulade Recipe
Makes 2-24"x19" sheet pans
INGREDIENTS
31 oz egg whites
24 oz granulated sugar
32 oz egg yolks
13 oz cake flour, sifted
INSTRUCTIONS
Preheat oven to 400°
In a bowl, whip the egg whites with 1/3 of the sugar to a medium peak.

In a second bowl, whip the yolks with the remaining sugar until the ribbon stage.

Fold the sifted flour into the yolk mixture.

Lastly, fold the whipped egg whites into the flour and yolk mixture.

Divide the batter between two lined and sprayed 24×19" sheet pans.

Place in the oven and bake for 5-7 minutes.

Remove from the oven and allow to cool in the pan to room temperature.
Cranberry Frangipane Cream Recipe

INGREDIENTS

4 oz almond paste, softened
6 oz granulated sugar
18 oz mascarpone cheese
½ tsp almond essence
2 ½ cups heavy cream
6 oz powdered sugar
1 tsp. Cranberry Paste or 1 cup Fresh Cranberries, chopped finely
INSTRUCTIONS
Cream the almond paste with the granulated sugar.

Once softened, add the mascarpone cheese, almond essence and mix for 2 minutes in a mixer, using the paddle attachment.

Scrape down the sides, switch the paddle attachment to the whisk attachment. Add the heavy cream, cranberry paste or the fine chopped fresh cranberries and powdered sugar and whip until soft peaks are formed. Do not overwhip.
Vanilla Dusted Apple Slices Recipe
INGREDIENTS
1 apple
2 cups cranberry juice
1 vanilla bean
½ tsp red gel
2 cups granulated sugar
INSTRUCTIONS
Slice the apple thinly using a mandolin. The slices should be wafer thin.

Make a simple syrup with the cranberry juice, vanilla bean, red gel and sugar. Bring to a simmer, add the apple slices and cook for a few seconds until they are flexible but still crisp.

Pat them dry and place them in a dehydrator for 48 hours or until completely dry. 
Crème Anglaise Recipe
Makes 1 quart
INGREDIENTS
34 oz heavy cream
1 vanilla bean, split and scraped
11.25 oz egg yolks
3 oz granulated sugar
Coarsely chopped fresh cranberries, to taste
INSTRUCTIONS
Bring the heavy cream and vanilla bean to a boil.

Reduce to a simmer, whisk together the yolks and the sugar, then temper in the hot cream. Continue to cook until thick and creamy.

Strain the anglaise into a bowl and cool in an ice bath.

When cool, divide in two. Leave one half as is and to the other, add in coarsely chopped cranberries. 
Cran-Vanilla Ice Cream Recipe
Makes 2-10"x4" containers
INGREDIENTS
56.6 oz whole milk
3 oz dry milk
10.6 oz granulated sugar
4.4 oz trimoline
5 oz unsalted butter
5.3 oz unsweetened cranberry puree
.44 oz ice cream stabilizer
To garnish:
Feuilletine flakes
Cocoa butter
INSTRUCTIONS
Gently heat all the ingredients together in a pan until dissolved. Mix with a stick blender.

Chill the ice cream base overnight. Place in an ice cream machine the next day, following manufacturers' instructions.

When the ice cream is done, place in 4" x 1" cylindrical silicone molds and freeze overnight. You'll need 8-10 molds for the finished dessert. Place in the freezer overnight.

Combine cocoa butter and feuilletine flakes. Roll each cylinder of ice cream in the mixture and return to the freezer until ready to assemble the dessert.
Note: trimoline is a thickening agent. You can substitute glucose syrup instead. You can make cranberry puree by blitzing cranberries.
Homemade Marzipan
Makes 12-15 mini marzipan apples (1 oz each)
INGREDIENTS
3.2 oz blanched almond flour
2.5 oz powdered sugar
.67 oz water
¼- ½ tsp almond extract
½ tsp food grade rose water
Red food gel, to taste
Green food gel, to taste
INSTRUCTIONS
Place the almond flour and powdered sugar in the bowl of a food processor. Add the water, almond extract, and rose water and pulse a couple of times until it holds together and forms a ball.

If the dough is too dry and doesn't hold together, add a tiny bit more water. Make sure to add just enough to form a thick dough. If it's too sticky and wet, add a bit more almond flour.

Place the dough on a clean surface, and separate a small piece – you'll use this to make the green leaves. Add the red food gel to the larger ball and knead. You should have a red apple color. Repeat with green food gel with the smaller dough ball. Shape it into a log, wrap it in cling wrap, and refrigerate. It will firm up in the refrigerator. 

Remove from the refrigerator, shape 1 oz balls into mini apples. Shape the green into mini leaves and attach to the apples.
Recipes by Nemacolin Executive Pastry Sous Chef Isaac Ortiz Montalvo and Pastry Sous Chef Mary Mae Co Laskody / Story by Keith Recker / Portrait Photography by Jeff Swensen / Food Photography by Scott Goldsmith


Subscribe to TABLE Magazine's print edition.