Peak asparagus season is upon us! While this veggie's season runs from approximately February until June, you'll find the best stalks towards the end of April and throughout May. What better way to celebrate than with some delicious recipes that make the most of the versatile vegetable?
Grilled asparagus gets taken to the next level with handmade green chile ricotta.
Orange lentils make for a witty pairing with corn and asparagus in this vivid appetizer that also flirts with edible flowers and snippets of torn mint.
Nothing fancy here. Just a few ingredients, a single pan, and a short time in the oven.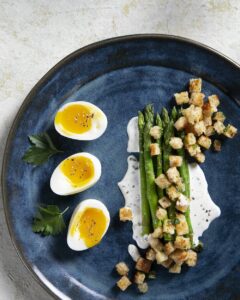 A savory, veggie-forward dish that's a perfect combination of flavors and textures. Simple to make, yet so delicious and satisfying.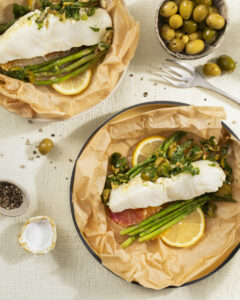 Don't let the papillote scare you away from this dish: that's just French for "parchment paper." Fold a serving of fresh halibut, spears of asparagus, garlic, and lemon into a packet of parchment paper and bake. Add a little savory relish when you serve it up and…heaven!
Topped with crunchy roasted chickpeas and dressed in a light saffron vinaigrette, this salad is perfect for a warm spring day.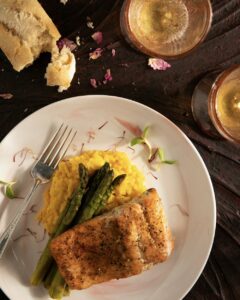 This delectable seafood recipe results in a filet of tender, flaky salmon over creamy saffron risotto.